The future of Lamborghini also passes from the acronym LB744, or the project dedicated to the first Hphev super sports car from the Sant'Agata Bolognese house.
Lamborghini has in fact unveiled the first details regarding the first V12 plug-in hybrid super sports car, ready to debut in the year of the brand's 60th anniversary.
The goal of the car is to define a new paradigm in terms of performance, sportiness and driving pleasure, thanks to an unprecedented architecture and an engine of over 1000 HP, combining the power of a completely new internal combustion engine with three electric motors and the first dual-clutch gearbox making its debut on a 12-cylinder Lamborghini.
The layout of the car envisages a 6.5-litre naturally aspirated V12 central engine, three electric motors, one of which is integrated in the new 8-speed dual-clutch gearbox, arranged for the first time behind the internal combustion engine and transversely to the V12. Furthermore, under the tunnel, the space traditionally reserved for the gearbox since the days of the Countach, there is now a location for a new lithium-ion battery which powers the electric motors.
The electric engines improve power delivery at low revs, and are also able to make the new LB744 a 100% electric drive car, reducing overall CO2 emissions by 30% compared, for example, to the Aventador Ultimae.
The new L545 engine has a cubic capacity of 6.5 liters and is the lightest and most powerful of the 12-cylinder engines manufactured by Lamborghini to date. It weighs only 218 kg, 17 kg less than the Aventador unit and is rotated 180 degrees with reference to the same engine. The power of the supersquare V12 is equal to 825 HP at 9250 rpm, thanks to the redesigned distribution system which supports a maximum rotation speed of 9500 rpm.
The LB744 then continues and evolves one of the strengths of the Lamborghini tradition such as the four-wheel drive.
In addition to the internal combustion engine that provides traction to the rear wheels, the LB744 debuts a pair of electric motors placed on the front axle, each of which provides traction to one wheel. Then there is a third electric motor positioned above the eight-speed dual-clutch gearbox, capable of providing torque to the rear axle.
Source: Ansa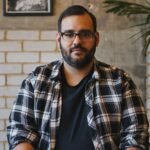 I am an author at Global happenings and I mostly cover automobile news. In my time working in the automotive industry, I have developed a keen interest in the latest developments and trends. My writing skills have also allowed me to share my knowledge with others through articles and blog posts.