Record numbers for the special Brick To The Future project signed by Kia and created in collaboration with Lego. In detail, 350,000 bricks are used to build a 1:1 scale model of the Ev6, the Korean brand's first native electric vehicle.
The Lego brick was chosen as a symbol of inspiration with which to give life to one's first aspirations, therefore in line with the spirit of Ev6 which for Kia represents a new path towards increasingly sustainable mobility. The final result is a very particular work in which original details of the Kia Ev6 have been inserted, such as the light clusters and the particular surfaces with accentuated inclinations.
The work required more than 800 hours of work and was commissioned by Kia from BrickVision, a Reggio Emilia company founded by Riccardo Zangelmi, the first and only Italian Lego Certified Professional. For Ev6 Brick To The Future, the Zangelmi team was busy for four months and was also able to develop a functioning lighting system.
The entire realization of the work was documented in a video, with the various executive phases of the project, from conception to execution up to the final phase with the presentation of the completion of the work. "The path taken by Kia – explained Giuseppe Bitti, managing director & Coo – is increasingly shared and felt. The sales numbers and the perception of an increasingly strong and attentive to sustainability brand push us to accelerate in the direction taken. With With this realization we want to involve everyone in commitment and results, making all our efforts visible. The idea of ​​Brick To The Future goes in this direction, to let people know that building a better world is possible, brick by brick".
Brick To The Future, after the presentation staged last night in the center of Milan, will leave on tour for the summer Ev roadshows, not before being exhibited at the Kia Italia headquarters, to then move to the center of the next Design Week in Milan and then stop at the Kia Energy House in Rome.
Source: Ansa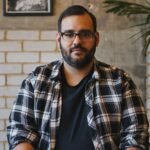 I am an author at Global happenings and I mostly cover automobile news. In my time working in the automotive industry, I have developed a keen interest in the latest developments and trends. My writing skills have also allowed me to share my knowledge with others through articles and blog posts.