John Neumeier doesn't make it easy for himself. At the end of his long career, the now 83-year-old Artistic Director of the Hamburg Ballet could have choreographed a pleasing piece of neo-classical music, with a comprehensible plot, beautiful dancers' bodies and selected music. And now this: At the beginning of "Dona Nobis Pacem" Louis Musin falls onto the stage, in the bright light of the hall, with no orchestral sound. He falls, he stumbles, he falls, a dying soldier who has made it from the battlefield to a quiet corner. And only then can the vocal ensemble Rastatt be seen in the orchestra pit, only then can the first Bach sounds be heard by the Ensemble Resonanz, powerfully conducted by Holger Speck. Until then: fall. No neoclassic, but hard contemporary.
Neumeier has been ballet director and chief choreographer at the Hamburg State Opera since 1973, and has been director of the Hamburg Ballet since 1996, which has since been independent – and almost single-handedly he has made the Hanseatic city the top address in the dance world, with precision craftsmanship, with scenic imagination, but also with the Ability to form an ensemble that is second to none. In 2024, after 51 years, he will hand over the direction to Demis Volpi, "Dona Nobis Pacem", his opus 172, has been announced as his last major premiere – however, this announcement dates back to times when it was assumed that the Neumeier era would end in 2023 would end, but since Volpi is only available a year later, there will be an interim season next season.
Neumeier continues to work with dead seriousness
But is there still important work to come? In any case, "Dona Nobis Pacem" is conceived as a climax and conclusion, as a piece that sums up the qualities (and also the weaknesses) of the choreographer. Johann Sebastian Bach's Mass in B minor does not tell a story, so the evening should be understood as an "ethical collection of choreographic images". In order to then function as a narrative: as a story about a wanderer who wanders through time, who experiences war and destruction, and who in the end, exhausted and put through the wringer, finds redemption. "Dona Nobis Pacem", the last passage of the mass, means "Give us peace", and it is difficult not to apply such a statement to this choreographic career.
At the beginning of his time in Hamburg, after his first successes in Stuttgart and Frankfurt, Neumeier was considered an iconoclast who confronted the classical repertoire with unprecedented innovations. Later his work always ran the risk of becoming stuck in classicism. Most recently, after an agonizingly long search for a successor, there were also allegations of racism: When the 1985 choreography "Othello" was to be rehearsed in Copenhagen, dancers had problems with what they saw as clichéd representations, as a result the years of successful collaboration between the Hamburg choreographer and the Royal Ballet was put on hold.
So it is a confession when Neumeier says about "Dona Nobis Pacem": "I am convinced that my faith, my personal doubts and my inner turmoil are inseparable from my personality." Dancer who can contort his body into breathtaking contortions, and yet does not convince with a massive physique, but retains fragility and sensitivity.
However: Neumeier, who was often able to develop concise body language even for the smallest supporting roles, this time does not manage to bring other dancer personalities to top performances alongside Martinez. Even top performers like Anna Laudere, Ida Praetorius or Edvin Revazov disappear into the corps de ballet. And the fact that they are received here in a friendly manner proves the quality of the ensemble that they can be included. Proves how unpretentious are the stars of the matter.
The dance stars subordinate themselves unpretentiously
And then: the holy seriousness of the choreography. Neumeier was never a great ironist, but he never showed himself as humorless as with "Dona Nobis Pacem", and the (earlier at times recognizable) queer character of the ballet also seems to have been buried. Instead, the search for meaning, inner turmoil, brooding.
However, in perfection. It works aesthetically: the furnishings designed by Neumeier himself, a deep, abstract space, a concrete bunker in the war scenes, later a brutalist church building from the 1970s. The crowd scenes choreographed to the point. The lifeblood of the choreographer that you can feel in every picture. And the fact that the evening is out of round despite this perfection might also fit the concept. Because a rich life is not complete, because a rich life hurts and it is difficult to get across the finish line. Where exhaustion awaits and redemption. give us peace
To home page
Source: Tagesspiegel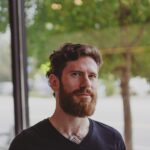 I have been working in the news industry for over 10 years now and I have worked for some of the biggest news websites in the world. My focus has always been on entertainment news, but I also cover a range of other topics. I am currently an author at Global happenings and I love writing about all things pop-culture related.