Her own studio has long been nested in a purpose-built, narrow house in Kreuzberg. Now Leiko Ikemura's gentle beings have moved into the historic artists' house of the sculptor Georg Kolbe. It's quiet around her. Luckily.
Anyone who is allowed to stay alone in a room with these peculiar creations feels soothing and unsettling. These unmistakable works are sometimes kneaded by hand from glazed ceramics, sometimes thrown onto the canvas with violent gestures. Others have been cast in bronze, more recently even made of solid glass. What unites them all under the exhibition title "Witty witches" is their ambiguous vitality. Clever witchcraft!
The rabbit wears ambiguous messages under her skirt
It is not uncommon for one to perceive a sympathetic wink, a furtive smile. For example in "Cat Woman" and "Cat Man": in the form of classic portrait busts, they face each other eye to eye. With their snub-nosed beaks on their faces, they resemble humans, birds and cats alike.
But horror and fear, comfort and the certainty of impermanence are also present in Leiko Ikemura's works. Many of these sculptures are hollow on the inside, and not just for material reasons. This makes them fragile and vessels for ambivalent messages and feelings.
The standing female figure "Usagi Kannon" with raised bunny ears dominates the large studio space. She spreads out her wide flared skirt like a protective cloak. In fact, you can take shelter here and crouch in the cast bronze cave. Bright, star-like light flashes in through tiny holes.
Ikemura created the figure after the Fukushima nuclear disaster. Since then, it has performed in variations in many places around the world. "Usagi" means rabbit. But the double title also alludes to a Buddhist entity for universal compassion. The younger, smaller creatures in this series look forwards and backwards with two faces, Janus-faced. Different cultural traditions intertwine in Ikemura's work.
The internationally renowned artist was born in Japan in 1951. She studied painting in Spain, the country of Goya. Since 1990 she has settled in Berlin. The idea of ​​exhibiting in Kolbe's classic-modern studio building from the 1920s had long appealed to Leiko Ikemura.
When the young curator Elisabeth Heymer approached her, the artist immediately agreed. Her current canvas work "Kuro Ame" is based on gloom and horror. The highly concentrated, spontaneous brushwork is reminiscent of the tradition of Asian ink paintings, but also of the abstract expressionism of the post-war era. A poem written during the preparations for the exhibition says: "Nothing is funny at the moment".
Childlike characters, but anything but cute
The girlish reclining figures from the 1990s occupy an entire room. These transitional creatures between childhood and adulthood are anything but cute, despite their petite physique. A girl slouches on her stomach on the floor, dressed in a stiff pink tutu skirt, and supports her arm stumps directly into her eye sockets. Puberty is no fun. The upper body of another has detached and is now nestled upside down on the side of the cornflower blue dress. The cherry red "Lying" resembles an opening blossom, but completely free of kitsch.
nothing is funny at the moment

So it says in a recent poem by Leiko Ikemura.
The seamless transitions between the plant-like and the human, between animal-like and abstract forms are characteristic of Ikemura. The silvery "Memento Mori" shows an insect-like being in the sleep of death, the already half-decomposed, fragile body is reminiscent of a broken seed. A film of watercolors adds spherical landscapes and heartbeat sounds. "Nothing is laughable. But hum."
Ikemura worked with solid glass for the first time
The basement is surprisingly light and spacious. The new glass works line up in a large arc. As curator Heymer explains, Leiko Ikemura was actually invited to try out the traditional medium in Murano. Corona prevented the workshop stay. Ikemura decided to try it in her own studio using her ceramic kiln. The alchemical process of melting when quartz sand and other substances combine is tricky.
Infinitely slowly everything cools down again, every day one degree. The result looks as if nothing has finally solidified. Only the light brings the massive volumes to life. A dark green animal-human being wraps its tail around itself in the manner of a lion.
A slumbering head opens its mouth as if breathing. And at the very end of the row crouches a translucent hare, shaped almost naturalistically like in Dürer's famous watercolor. He crouches, puts his long ears back and makes himself almost invisible. But he is there.
To home page
Source: Tagesspiegel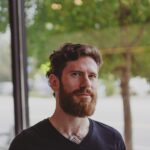 I have been working in the news industry for over 10 years now and I have worked for some of the biggest news websites in the world. My focus has always been on entertainment news, but I also cover a range of other topics. I am currently an author at Global happenings and I love writing about all things pop-culture related.