Ukrainian diary (106): Kharkiv reinforced concrete is indestructible
2/1/2023
"You take the guitar out and just leave it for half an hour, you should give the wood enough time to adjust to the weather, then you tune it again – and then you can start playing!" That's how Wasil Riabko taught me how to handles an electric guitar outside in winter temperatures. That was in January 2014. It was two degrees outside, which was definitely too cold for an open-air concert.
Not for Wasil. His band Papa Karlo played regularly at the rallies next to the Taras Shevchenko monument. These evening gatherings were the Kharkiv response to the Kiev Maidan. I tried to be there as often as possible (it turned out that I was in Kharkiv during this time). At some point, Serhij invited me to sing a few songs – an honor, but also a challenge. As a musician, I had never taken part in such actions.
I met Wasil in the auditorium of Kharkiv University, where we performed together in October 1992. I was there with my band Wylde at the time, and Wasil presented the first Papa Karlo cast. She played songs in Russian that sounded very much like rock 'n' roll of the late 1950s.
The time of the Orange Revolution
Only 10 years later the Ukrainian songs were added. With these, the band took part in the protests during the Orange Revolution. When we met Wasil again in 2014 after a long break, only he and his older brother on drums remained from Papa Karlo's old line-up. The band's repertoire now consisted exclusively of Ukrainian songs. Riabko, who grew up in a Russian-speaking family, also switched to the Ukrainian language in everyday communication.
I well remember telling Berlin musicians about the performances of my Ukrainian friends during the Maidan. They took place on the streets, the sound was often miserable, but the atmosphere was unbelievably great. But the performances were not without danger. At these concerts, fights and other unpleasant surprises always had to be taken into account. Once Papa Karlo was attacked by a group of Bullis with baseball bats. Despite this, they did not manage to disrupt the concert.
Then in 2016 we went on a short Donbass tour – Wasil with his boys and Zhadan i Sobaky, in which I was allowed to play. At Kostyantynivka we performed for the Ukrainian armed forces stationed there. In the meantime you can hear the button accordion in addition to electric guitars in the band, and the singer Jana Sawarsina is also part of it. One of the new songs is called "Charkiv Salisobeton" (Charkiv Reinforced Concrete).
Today I can't remember who first said it – Kharkiv and its citizens are made of reinforced concrete. You are indestructible! Graphic artist Patrick Cassanelli designed a logo with one of the most famous Kharkiv city symbols, the Derzhprom building. He put the inscription "Kharkiv reinforced concrete" over it. Wasil immediately had a number of T-shirts printed with this motif and offered them to his buddies. If you want the T-shirt, you pay for a second one – this is given to a soldier at the front.
Wasil now also has hoodies and hats produced. On February 4th and 5th, Papa Karlo will play in Berlin as part of the European tour of Kharkiv Stahlbeton. Their first concert takes place in the clubhouse of the student village of Schlachtensee; on Sunday they will play at 4 p.m. in the Schwartzsche Villa in the recently opened Kharkiv Park. The air temperature will remind of the Maidan days in my hometown. I will be there.
To home page
Source: Tagesspiegel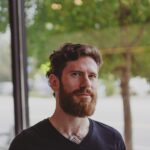 I have been working in the news industry for over 10 years now and I have worked for some of the biggest news websites in the world. My focus has always been on entertainment news, but I also cover a range of other topics. I am currently an author at Global happenings and I love writing about all things pop-culture related.