Ms. Gütschow, you work as a photographer and are also a climate activist. How are you getting involved?
I don't even know if I would call myself an activist. There are always people who do more (laughs). In 2019, as a citizen, I decided not to just watch. I'm at demonstrations, including in Lützerath and also at the G7 summit.
How did this commitment find its way into your work?
A year and a half ago I realized that I felt my artistic work was too decoupled. I felt alien to her. That's when it became clear to me that she also had to deal with the issue of climate protection. Since I work in series anyway, it's natural for me to finish a topic and then make a cut. That's how it came to a new beginning with the said focus.
So you started to rethink on both levels. How is that reflected in your everyday life?
I did what everyone does who starts to really worry the fuck. You start to think about your own ecological footprint – and then you quickly realize that that's not enough.
What does it take instead?
Action at the political level has the greatest impact. That brings much more than any personal savings – which is of course also great, I don't want to argue against that at all. I came to political action out of a very personal feeling: My last photo series before the reorientation dealt with parks. In the summer of 2019, these systems dried up so much that my motifs were suddenly broken.
At the European Month of Photography you spoke in a panel discussion about the connection between photography and the climate crisis. What are the problematic factors?
It's the same question as in my private life: As an artist, should I look at my own consumption or at the political framework? Of course, that's too much of a contradiction if you, as an artist, want to address this topic and then have extreme consumption yourself. As a result, I have tried to minimize this contradiction in my own work.
How do you manage that?
When I work, I move around completely by train or bicycle and only take digital photos. I also produce my work on poster paper. Therefore, they have no impact in transport at all. They can be torn down and recycled. This is all relatively resource-reduced, but also has a catch.
Which one?
For example, institutions sometimes have the wrong sponsors. If you have RWE as a sponsor and then print on poster paper, then of course that's the wrong measure. But it is also the case that photography itself is extremely resource-intensive: the production of the cameras, the entire infrastructure behind it from software to servers. But all of this mostly takes place in other countries, often in the Global South. Unfortunately, we don't get the local damage caused by these extractions.
If you know this background and also want to draw corresponding conclusions for your own work as a photographer: How contemporary are exhibitions then?
I'm totally unsure about that. And yet I believe that art has an educational role. Above all, so that things can be experienced emotionally. This is extremely important for communicating about the climate crisis.
How can this communication look like?
The sadness I feel when I see that my motif is broken: Of course I can convey that in a completely different way than if you had to write something about it for the Tagesspiegel. Even science says that they just don't get it. We as artists, on the other hand, have the advantage of being able to report very personally. That's a crazy way of communicating.
To home page
Source: Tagesspiegel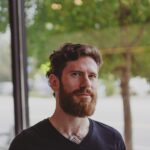 I have been working in the news industry for over 10 years now and I have worked for some of the biggest news websites in the world. My focus has always been on entertainment news, but I also cover a range of other topics. I am currently an author at Global happenings and I love writing about all things pop-culture related.