Mila wants the best of both worlds. Your apartment with a chic view of the city has all the technology tools that the near future has to offer: text messages appear on the bathroom mirror, the end devices babble service messages and a vacuum cleaner robot whizzes through the booth as a lay-flat R2-D2. How it is in science fiction when you have a fancy job as a games developer who does her video calls in a group of avatars.
At the same time, Mila's vintage furnishings made from flea market furniture and the loving care she gives her green plants reveal at first glance that the late 30s, played by Friederike Kempter with a soulful look, has a heart for the old and the tried and tested. A cozy setting that was largely created in a studio in Berlin-Johannisthal by the production company Odeon Fiction for the series "Tender Hearts" on behalf of the streamer Sky. As "Green Production", which strives to conserve resources in the energy-intensive streaming industry.
Which is definitely more promising than yesterday's image of women, which is transported by the mixture of science fiction and rom-com, i.e. romantic comedy. It's clear that in rom-coms it's always pretty predictable that the search for "Mr. Right" or the female counterpart, that's why some love the genre as much as others hate it. But with more thoughtful undertones and more differentiated character drawing, more could be made of it than a hip packaged digital women's novel for generations Y to Z.
"Tender Hearts" looks quite entertaining, so to speak as a long version of Maria Schrader's film "I am your human" from 2021, where the charming Briton Dan Stevens as a robot alongside the skeptical scientist Alma (Maren Eggert) dies metamorphosis from clumsy machine to almost human.
In "Tender Hearts", where Mila greets her dildo resting on the pillow next to her with "Good Morning, Beautiful" in the morning, the skepticism about machine intelligence, as reflected in cinema dramas like "Her" and "Ex Machina", is completely given way to a "tech-positive" consumer attitude. There is as little to be said against this as against the matter-of-factness with which Mila uses her new partner "Friendly Bo", whom she has rented from the company "Tender Hearts", as a sex toy and cleaning fairy before she succumbs to the delusion that he is a human.
Considering him a real companion is encouraged in every way by the Tender Hearts staff who monitor Mila and Bo. They manipulate the customers in their community to the best of their ability in order to sell products, siphon data, i.e. create loyalty and dependency. The series tells this ethical downside of the Big Brother world without deriving real conflict material from it, which is not only given away, but seems strangely lukewarm.
Instead of all the criticism of capitalism, "Tender Hearts" prefers to focus on Bo's incarnation, which is undoubtedly a much more entertaining subject. The learning machine, which scans the world in the "Terminator" way in the subjective, becomes a being that develops consciousness, creativity and the urge for freedom, while always remaining helpful and good. The android with no history and no injuries as a better, more perfect human who contrasts Mila's tantrums and trauma (abandoned by her ex, wounded in an accident) with his unwavering kindness. Beautiful new world.
To home page
Source: Tagesspiegel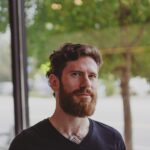 I have been working in the news industry for over 10 years now and I have worked for some of the biggest news websites in the world. My focus has always been on entertainment news, but I also cover a range of other topics. I am currently an author at Global happenings and I love writing about all things pop-culture related.