The pop poet Rolf Dieter Brinkmann, who unfortunately died much too early in 1975, was one of the first to know that everything keeps going, from the storytellers to the workers, day and night. Whom he foresightedly didn't forget in his enumeration: the rock'n'roll singers, of whom there weren't as many back then as there are today.
Now you wouldn't necessarily associate Dave Gahan and Martin Gore from Depeche Mode with rock 'n' roll, but rather with pop, synth pop, stadium pop. But they always keep going, which, however, was not foreseeable given the lack of continuity.
In May last year, the band's keyboarder died, who not only founded Depeche Mode in the early 1980s with Gahan and Gore, but also always kept the band together and acted as a mediator between the two divas: Andrew Fletcher.
Fletcher knew all the songs
The expressions of grief from Gahan and Gore proved that this was a more than heavy blow. But there were never any thoughts of quitting. Especially since the new Depeche Mode album, which will be released next Friday, could not be finally recorded and produced by Fletcher, but he knew all the songs and thought they were good.
He also chose the album title "Memento Mori": Remember that you must die. That's what the slaves called out in ancient Rome, who had to hold a gold or laurel wreath over the head of the victorious general.
Now, Depeche Mode are not generals, but they are one of the biggest, most successful, laurel-wreathed bands in the world, not far behind the Stones. During the pandemic, modesty and humility seem to have been on their agenda, recognizing that in the face of death all is nothing.
modesty and humility
"Memento Mori" is therefore Depeche Mode's pandemic album, her 15th studio album. With the death of Fletcher, it will nolens volens take on the character of a requiem, and an additional basic gloom may have set in afterwards. In fact, the album begins with a menacingly threatening song, which is determined by piercing drum sounds and Gahan's wafting vocals.
"The Cosmos is Mine" is a kind of anti-war and climate anthem that chants that things can't go on like this, Rolf Dieter Brinkmann or his own career: "No war, no war, no war, no war". Gahan, "No more, no more, no more, no more/No fear, no fear, no fear, no fear/Not here, not here, not here, not here/No rain, no clouds/No pain, no shrouds /No final breaths/No senseless death". The closing track "Speak To Me" closes the dark bracket, and the ten songs in between are basically the more elaborate continuation of the last Depeche Mode album "Spirit", released in 2017.
Produced again by Simian Mobile Disco musician James Ford and mixed by Italian Marta Salogni, "Memento Mori" features the straddle guitar piece "My Favorite Stranger", the drug song "Caroline's Monkey" and the languorously pounding one "Never Let Me Go" some good songs that could make the band's touring setlist.
The world in her eyes
The rest, however, especially the ballads sung by Gore, is lame, including the piece "Ghosts Again", which was previously released alongside "The Cosmic is Mine" and is harmless despite the graveyard and chess illustrations. Arguably calculated, this song aims for a sea of ​​lights from lighters and smartphones.
At the end of his poem, Brinkmann opened his eyes to a sheet of white paper – Gahan and Gore will soon be looking into tens of thousands of shining eyes again and hearing the calls for all-time hits like "World In My Eyes".
To home page
Source: Tagesspiegel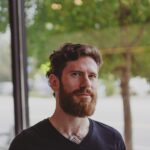 I have been working in the news industry for over 10 years now and I have worked for some of the biggest news websites in the world. My focus has always been on entertainment news, but I also cover a range of other topics. I am currently an author at Global happenings and I love writing about all things pop-culture related.