The very title "The power and pleasure of books and possessions" arouses curiosity about the exhibition at Galerie Neugerriemschneider, in which all 26 artists from their program have brought together for a group exhibition. Under the two pairs of terms that make every collector and book lover sit up and take notice, around 80 works – paintings, photos, sculptures, book objects and installations – are presented in numerous showcases between a wall-filling weaving work and a St. Petersburg hanging, like in a cabinet of curiosities.
In order to increase the effect, access does not lead directly to the exhibition space via the stairs on the left, as is usual, but via the detour of the stairs on the right, and immediately draws the eye to the 3 x 8.5 meter reproduction of the artist's library, which is a perfect fit Pae White, which turns out to be a two-piece tapestry only up close. 2013's Bookshelf South & Bookshelf North sets the atmospheric tone of condensed erudition and historical grounding in this art chamber brimming with surprise and deception. Research, collecting, ordering and preserving are not only traditional tasks of the museums, but also genuine artistic impulses to depict our world and to better understand it – be it through simulations, reproductions, alienation or compression.
Olafur Eliasson shows a glass book
The inspiration was the traditional Korean still life painting "Chaekgeori", which has bookshelves with various objects and treasures as the subject. Popular since the 18th century, these arrangements not only demonstrate personal treasures, but are also a form of presentation that combines the art of exhibiting with the portrait of the collector. Illusionistic trompe-l'oeil effects serve the intellectual game of discovering and hiding, which has not lost its appeal to this day, especially in material alienations.
Among the "books and things", as Chaekgeori translates it, the book object is the medium par excellence. While Olafur Eliasson bundles his many years of research into color perception and optical phenomena in 2013's "A View Becomes a Window", in which he binds together colorful hand-blown glass panes with elliptical openings like book pages, Tomás Saraceno lets his ongoing spider research in the filigree pop-up paper cut book " From Arachnophobio to Arachnophilia" from 2022. The serial signature of Thomas Bayrle can be seen in the "Parkhaus Köln – Edition A" from 2009, built like a book made of interwoven strips of veneered wood, with its tiny toy cars, while Simon Starling designed an entire table display case with the 48 dummies from his entire catalog in various formats with minimalist elegance white tones and formats.
The passion for different collecting areas is evident in Eliasson's shelf sculpture with watercolored driftwood from 2020 as well as in Ai Weiwei's group of "Cosmetics" from 2014, for which the Chinese artist has reproduced cosmetic jars and bottles made of jade. While Antje Majewski portrays extinct apple varieties, the Indian artist Shilpa Gupta has been collecting glass bottles since 2018, into which she has spoken excerpts from poems by authors who have been oppressed or imprisoned because of their works.
Sorrow and triumph over the war
What can be condensed into an artist's book or developed as a collector's area follows pars pro toto an ordering and preserving approach. In contrast, Pawel Althamer reproduces a miniature world in his three-story dollhouse from 2020, which veristically and almost eerily demonstrates how the Polish artist and his first wife initially made a living from making dolls. His most recent work "Yevgen" from 2023, which is named after Althamer's artist friend who fled the Ukraine, comes painfully close. In a worn suitcase we see a figure from the back with scattered painting utensils sitting in a landscape of ruins. A circular hole in the case lid forms the moon, which shines in the starry sky above the burning city. In the mobile, morbid scenario, mourning and triumph over war, flight and loss combine to form the poignant cornerstone for "The power and pleasure of books and possessions".
To home page
Source: Tagesspiegel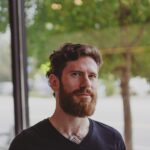 I have been working in the news industry for over 10 years now and I have worked for some of the biggest news websites in the world. My focus has always been on entertainment news, but I also cover a range of other topics. I am currently an author at Global happenings and I love writing about all things pop-culture related.