He just wants to play, one thinks for a moment. Pressed plants, a steppe plant on a fitness treadmill, limbed figures that collapse and stand up again at the push of a button give Julius von Bismarck's exhibition in the Berlinische Galerie an impression of a playroom.
Construction is still underway, which is unusual only 24 hours before an opening. But what's ordinary about this man who brings together engineering, aesthetics and science? Many of his works are insanely complicated and often gigantic – which adequately explains the extended development phase.
Giraffe and Equestrian Statue
Strange, but in the midst of the general hustle and bustle, the artist seems like calm itself. He takes a good amount of time for a workshop discussion. And it still looks like a workshop. The two gigantic push figures are not yet functional: a giraffe and an equestrian statue (the original is in Bremen), both on a scale of 1:1 and made as if for the thumb of a titan. As a child he had a whole set of wooden wobbly figures, says Julius von Bismarck, in which the tension in the limbs held by a cord is released at the touch of a finger and the figure buckles with a jerk.
Nature is a pure construct.

Julius von Bismarck, artist
With the monument and the giraffe, this will happen in slow motion, logically on this scale. "We worked with real giraffe fur, and when the animal was assembled, I felt sorry for myself," says Bismarck, who wants to make the brutality behind the children's game visible. Although the giraffe is still a heap of limbs, you can understand that. This is about zoos, about imported creatures on display, about nature made available.
The man in the dead end
Nature? For the artist a term for beard hair pulling. "Nature is a pure construct," he explains. "The word describes everything that is not made by man. But what in the world isn't – influenced by humans?" With the separation between themselves and everything else, people have "maneuvered themselves into a dead end," says Bismarck (the keywords climate change and extinction of species will suffice) and recommends studying animistic religions . "There is no separation between gods, humans and the rest. Everything is intertwined, lightning, thunder, animal, storm, forest, river and man, everything affects the whole."
Instead of "nature" he prefers to speak of "landscape". Julius von Bismarck, born in Breisach am Rhein in 1983, grew up in Riyadh, Saudi Arabia. The family regularly went to the desert, the mighty sight of sand dunes, snorkeling through the underwater world in the Red Sea, such impressions shaped him. When the eight-year-old came to Germany – the Second Gulf War drove the family back to Europe – "there was nothing 'normal' here for me. That certainly helped me not to perceive Western culture as God-given – to know and to feel that different world views are possible."
He learned Olafur Eliasson
Such words give an idea of ​​how Bismarck came to art. From 2009 to 2013 he studied at Olafur Eliasson's Institute for Space Experiments at the Berlin UdK. The exhibition shows that he continues to work with former fellow students such as Felix Kiessling and Julian Charrière. Five years ago, Bismarck and Charrière leaked a series of videos that allegedly showed natural monuments in US national parks being blown up, and which triggered huge media coverage. In truth, the artists in Mexico had placed artificial pieces of rock on given formations and had them explode.
A huge effort. Glossy photos attest to the spectacle. Hasty, sometimes hateful comments from social networks can be read on a monitor. Few users saw through the fake.
With his often provocative land art interventions, sculptures or installations, Bismarck wants to break down deadlocked thought structures and inspire new perspectives. He called his exhibition "When Platitudes Become Form" in reference to the legendary "When Attitudes Become Form" show by Harald Szeemann in 1969 in Bern. Bismarck's programme: inflate and burst the commonplaces and natural clichés.
His herbarium of dried exotic plants lacks any poetic album-like quality, because they are large plants from non-European countries, which he has pressed into two dimensions through laborious pressing. Raised on tin, palm trees like "Botanical King", "Bismarckia nobilis" and other plants dangle from the ceiling like a morbid mobile. Sarcastic children's song title of 'Nature Morte': "I like the flowers".
In fact, the Bismarck palm owes its name to the "Iron Chancellor". While Otto von Bismarck's great-great-great-nephew only wanted to be called "Julius" on the text panels in the exhibition, the most famous Bismarck can be found here at every turn. Because the artist in particular cannot avoid his statesmanlike ancestors.
As a "push puppet" with spiked helmet, after the Bremen equestrian statue mentioned above, he lets him collapse and get up again every minute. Ghostly indestructible. "Bismarck stands for the German colonial era," says the artist. And without colonialism one could not understand our concept of nature.
The "Iron Chancellor" as ancestor
He does not want to remove the first Reich Chancellor, with whom he shares the name, primarily for political reasons. "I am not a historian who would have to evaluate what Otto von Bismarck did right or wrong". Rather, the Western perception of the environment is wrong or at least distorted. We place plants on the balcony, but are hardly interested in their origin. We love parrots and giraffes.
Our mind works like a petting zoo, in political reality we erect barbed wire fences. Exotic flora and fauna are welcomed, people from elsewhere are usually turned away. Xenophobia and a naïve concept of landscape that insists on preserving the supposedly original are somehow connected, and you can now get an idea of ​​that in the Berlinische Galerie. "Don't look so romantic" – the Brecht appeal calls out from every corner of the show.
The truth about balcony plants
Before you enter, you have to pass a large piece of painted fabric that initially covers the exhibition like a closed curtain. Wavy lines are painted on in coarse black brushstrokes, the sea as depicted on old engravings. Fans behind the cotton tarpaulin generate artificial wind. As an installative seascape, the work would be rather disappointing. But Julius von Bismarck wants to disappoint, wants to deconstruct instead of simulate. The anti-illusionist theater curtain is the relic of an action, the result of which can be admired on a photo triptych in the exhibition.
Bismarck floated the nine-by-twelve-meter cloth in the Pacific some time ago. Half it floats on the water, half under it. The woodcut-like structure merges with the real sea, the transition is fluid. In the distance: only real water, on the horizon there is a strip of land, a corner of Papua New Guinea. The motif links colonialism with its current consequences, the refugee movements on the Mediterranean. The only difference is that the photo work was created on a different sea, for which the term "Bismarck Sea" is still used today. An absurdity for the artist.
Colonialism shapes our understanding of nature
Julius von Bismarck even approached the United Nations to get the name changed. He is also committed to changing street names in Berlin that are reminiscent of his great-great-great-granduncle and thus of German colonial history, "because the name is not worth remembering in this context," he says.
Now one should not think that Otto was a personal trauma for Julius. But if the suggestions "come from someone named Bismarck, it might inspire people to rethink". However, the renaming initiatives are only side effects of his artistic practice. The artist also includes his living family in these.
From the soundtrack of a video work, a chorus of relatives sings "Go out, my heart, and seek joy". Singing together, the family, Bismarck wouldn't want to miss any of that. From a historical point of view, he has no problem with the antiquated world view of the hymn, according to which God bestows upon us "the ornaments of beautiful gardens". If you look at the text in the light of today's consumer attitude towards the world, things look different.
The accompanying video shows a forest from above, over which the camera seems to hover disembodied. But there is no gaze without a body and also not – without energy consumption. The wind in which the trees seem to be swaying is actually the vortex created by the helicopter from which it was filmed. The noise of the rotor blades is muted. It fits when you understand it. Art bites. No, Julius von Bismarck doesn't just want to play.
Source: Tagesspiegel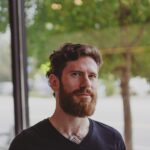 I have been working in the news industry for over 10 years now and I have worked for some of the biggest news websites in the world. My focus has always been on entertainment news, but I also cover a range of other topics. I am currently an author at Global happenings and I love writing about all things pop-culture related.