Singer Nando Reis announces that he is launching a virtual wallet that will give his fans access to "a new universe" of exclusive content, gifts, collectibles, opportunities to interact with the musician and other news.
Similar to "fan tokens" in football, the wallet includes a rewards program tokenized where fans can earn "Nandos" for activities like enjoying a song on Spotify and exchange for rewards like VIP tickets to a show, for example.
The project elaborated and planned by the Multidisciplinary Executive Board of Selo Relicário Produções, formed by the artist himself together with Vania Passos, Diogo Damascena and Marcelo Rodrigues, aims to create a marketplace where fans can enhance their experience that they already live directly with the artist through the songs, but who will now be able to create economic value to this affective relationship.
"Could have lied more, collected more…"
For the musician, this is a way of using the latest technology to be closer to his fans and repay so many years of affection, dedication and loyalty.
"I'm interested in technologies that have a connection with art. The NFTs caught my attention due to their numerous ways of use", says Nando Reis.
The digital wallet will be integrated into the network Polygon (MATIC), blockchain second layer of Ethereum (ETH)and comes as part of the re-release project of the album "Para Quando o Arco-Íris Meet the Pot of Gold" which has a commemorative vinyl edition, remixed by Jack Endino.
In addition to vinyl, there will be another CD/digital platform version that contains extra tracks, demos and a re-recording of "Hey Babe!" featuring Elana Dara and a documentary packed with archival materials and stories about the creation process of the album. disco.
According to Reis, the NFTs alsomay be traded on the secondary market. "Owners will be able to export them to Metamask and from there list them on platforms like OpenSea", he says.
The musician will make the official announcement of the portfolio on his social networks with information on how to access the material next Wednesday, the 22nd.
"We are planning a lot of cool things with the wallet, its launch is just the beginning. Regarding the first use of the token, what I can say is that fans will be able to exchange Nandos for an exclusive gift", concludes the artist.
How does the Nando Reis Virtual Wallet work?
The launch will be in partnership between Relicário Produções, the singer's company, with Abrakazum Entretenimento, a company focused on creating collections of non-fungible tokens (NFTs) for public people and events, through the Moonwalk platform.
Abrakazum was responsible for releases such as NFT by Kiko Pereira from the band Roupa Nova and the samba school Império Serrano in the 2021 carnival.
According to Renato Villela, CTO of Abrakazum Entretenimento, the wallet will allow Nando Reis to change the way he interacts with his fans. According to Villela, the NFT is just a tool within the wallet.
"We are going to produce a lot of action and engagement. People will be able to earn 'Nandos' for doing things like enjoying music on Spotify, posting a post by the singer, among other activities," he explains.
He says that the tokens can be exchanged in the future for VIP tickets, videoconferencing with the singer and even having access to exclusive videos that have not yet been shared with anyone. There will be an area just for these exclusive materials for those who reach a certain number of 'Nandos', or a certain NFT", he explains.
Vilella ends by explaining that the focus is not on NFT, but on the possibilities that the wallet can create for those who are engaged enough.
Follow Crypto Times on Facebook!
Like our Facebook page and connect with journalists, analysts and Crypto Times readers. Our team brings you the most important discussions of the day and you participate in the conversations about the news and analysis of everything happening in the crypto world. Follow the Crypto Times Facebook page now!
Disclaimer
O Money Times publishes informative articles of a journalistic nature. This publication does not constitute an investment recommendation.
Source: Moneytimes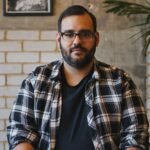 I am an author at Global happenings and I mostly cover automobile news. In my time working in the automotive industry, I have developed a keen interest in the latest developments and trends. My writing skills have also allowed me to share my knowledge with others through articles and blog posts.