O PicPaypayment application, announced this Wednesday (10) that it now allows you to buy, sell and store cryptocurrenciesin its first foray into the crypto market and web3.
The company launches its cryptocurrency exchange, which will allow trading with Bitcoin (BTC) and Ether (ETH)the two largest digital currencies in the world, and also USDP, a stablecoin dollar-backed certificate issued by Paxos.
With the novelty, the company begins its journey with the aim of demystifying cryptocurrencies and bringing them into people's daily lives through a simple, informative and safe experience.
"Our goal is to lead the popularization of the crypto market, eliminating the complexity that is still associated with it and expanding the information on the topic, so that everyone can take ownership of this technology", highlights Bruno Gregory, executive responsible for the business unit. of Crypto and Web3 of PicPay.
The broker will be gradually made available to PicPay users, which already has more than 30 million active customers. Trading can be made from R$1 and the entire experience takes place within the app.
In addition, PicPay will offer information about the crypto market during the exchange experience.
The user will be able to access cards with educational content that clarify doubts about what cryptocurrencies are, how trading works, what are the risks involved, among other fundamental points for the customer to make better decisions.
The product is operated in partnership with Paxos, a blockchain that will act as a brokerage and custody provider.
Paxos is regulated by the New York Department of Financial Services and is also the issuer of USDP, the US dollar equivalent stablecoin that will be available on the app.
PicPay's next steps in the crypto market
Later this year, the user will be able to pay and receive using cryptocurrencies in the PicPay app, in addition to making crypto transfers.
In addition to your cryptocurrency exchangePicPay will launch its own stablecoin also in 2022.
The digital currency will be backed by real, with one-to-one parity, and will allow PicPay to be used as a payment method worldwide, anywhere that accepts crypto wallets.
The initiatives bet on the crypto market and Web3 as a transformation that will unlock new business opportunities and use cases, especially in financial services and payments.
Join the Crypto Times Telegram group!
You access news from the crypto world in real time and you can even participate in community discussions. Join the Crypto Times Telegram group now!
Disclaimer
Money Times publishes informative articles of a journalistic nature. This publication does not constitute an investment recommendation.
Source: Moneytimes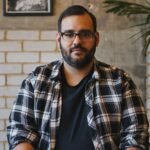 I am an author at Global happenings and I mostly cover automobile news. In my time working in the automotive industry, I have developed a keen interest in the latest developments and trends. My writing skills have also allowed me to share my knowledge with others through articles and blog posts.