Crypto market maker, wintermute suffered a hacklosing US$ 160 million but remains solvent, according to the founder and CEOEvgeny Gaevoy.
Gaevoy said this Tuesday (20), on Twitter that the money was related to decentralized finance operations (DeFi) and that centralized brokerage and over-the-counter offerings were not affected.
"We are solvent with twice the amount of capital remaining," Gaevoy said. "If you have a market making agreement with wintermute, your funds are safe. There will be an interruption to our services today and potentially over the next few days, but we will get back to normal afterwards."
Gaevoy said 90 different assets were stolen. Two amounts of tokens were worth between $1 million and $2.5 million, with the remaining value under $1 million.
the CEO of wintermute he added that the company was open to treating the attack as a "hack for good." In this case, the company would let the hacker keep a portion of the money as a reward ("bug bounty"), if he returns the rest.
On Telegram, Gaevoy confirmed that the tweets were correct, but had no further comments to make.
Community comments on hack in Wintermute
Important people in the crypto world were quick to respond to the hack at wintermute.
"If this can happen with wintermute… Stay safe. Get paranoid," said Dragonfly Capital managing partner Haseeb Qureshi.
DeFiance Capital founder Arthur Cheong, who was hacked in March, said "I'm sorry to hear this, it must be extremely difficult to get through this right now. I hope this resolves itself in the end."
Crypto researcher ZachXBT, known for long strings of tweets about breaches in the crypto world, provided details of hacker addresswhere the stolen funds are stored.
Follow Crypto Times on Instagram!
Stay on top of everything that happens in the crypto universe in a simple and practical way! Every day content filled with images, videos and lots of interaction. From the main news in Brazil and in the world to the current discussions. You will have access to the world of cryptocurrencies, decentralized finance (DeFi), NFTs, Web 3.0 and much more. The crypto universe is ageless, it's for you! Connect with Crypto Times! Follow our profile on Instagram now!
Disclaimer
O Money Times publishes informative articles of a journalistic nature. This publication does not constitute an investment recommendation.
Source: Moneytimes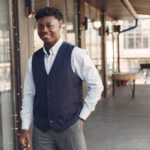 I am a journalist with over 6 years of experience working in the news industry. I currently work as an author for Global Happenings, and my coverage focuses on Technology news. I have written for various publications, including Reuters, The New York Times and The Guardian.