Greenhouse gas emissions from Brazil increased 9.5% in 2020, largely due to increased deforestation in the Amazon during the second year of the president's government Jair Bolsonaro, said a report published on Thursday by experts on climate change.
While most countries generated less carbon emissions during the economic crisis caused by the pandemic, coronavirus, Brazil emitted 2.16 billion tons of carbon dioxide equivalent (GtCO2e) in 2020, against 1.97 billion in 2019, according to the study.
Discounting the removal of greenhouse gases by secondary forests and protected areas, Brazilian net emissions increased 14% last year to 1.52 GtCO2e, according to the Greenhouse Gas Emission Estimation System (SEEG), maintained by the Observatory of the Climate.
"We continue with deforestation dominating our gross emissions and, worse, with an upward trend in emissions in the year in which we should start meeting the Paris Agreement targets," said Tasso Azevedo, SEEG coordinator.
The increase in deforestation will put Brazil at a disadvantage in climate negotiations at COP26, which starts on Sunday in Glasgow, said the executive secretary of the Climate Observatory, Marcio Astrini.
"Brazil achieved the feat of being perhaps the only major emitter that polluted the most during the first year of the pandemic," he said.
Brazil will expand its Paris Agreement targets at COP26, as it tries to regain the credibility of its environmental policies, bringing forward to 2050 the goal of carbon neutrality, or zero net emission.
At an Earth Day summit organized in April by the president of USA, Joe Biden, Bolsonaro has pledged to end illegal deforestation in the Amazon by 2030. But he continues to insist on commercial mining and agriculture in the forest, including on protected indigenous lands.
Environmental activists warn that the announced climate goals are at odds with what is now happening in the Amazon, with authorities turning a blind eye to illegal logging and mining, which has pushed the world's largest rainforest toward a possible inflection point.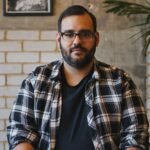 I am an author at Global happenings and I mostly cover automobile news. In my time working in the automotive industry, I have developed a keen interest in the latest developments and trends. My writing skills have also allowed me to share my knowledge with others through articles and blog posts.