Ibovespa decreases fall, but does not avoid negative balance on Copom day
THE Ibovespa (IBOV) slowed the pace of decline and closed down 1.08%, to 112,000 points, according to preliminary figures.
Earlier, the main index of the Brazilian stock exchange fell by more than 1.5%, with retailers and techs leading the declines.
According to Guilherme Ishigami, broker at RJ Investimentos' variable income table, the devaluation was driven mainly by the financial and banking sector due to the result of the Santander (SANB11) of the fourth quarter of 2021, a balance that did not please.
The bank's shares fell 2.54% to R$31.91. "This ended up contaminating the entire sector", he adds.
At the minimum of the day, Santander fell more than 4% on the stock market.
The bank profited BRL 16.3 billion in 2021, up 7%. Despite this, there was a decline in the fourth quarter, to R$ 3.880 billion.
The numbers presented by Santander were weaker than expected, but not necessarily bad, in the evaluation of the harvest.
Copom
In addition, according to Ishigami, caution prevails among investors, mainly due to the Copom decision that takes place after the closing.
For contracts traded on the DI market, the probability of a 1.50 percentage point increase in basic interest is 95%, with the remaining 5% in opportunity bets at a smaller increase of 1.25 percentage points to 10, 50%.
"The expectation is for an increase of 1.5%, but the most awaited is the Central Bank's signal on the trajectory of monetary policy for the rest of the year", he adds.
Source: Moneytimes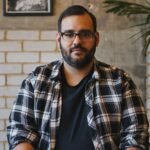 I am an author at Global happenings and I mostly cover automobile news. In my time working in the automotive industry, I have developed a keen interest in the latest developments and trends. My writing skills have also allowed me to share my knowledge with others through articles and blog posts.