The first deputy head of the faction and the head of the Servant of the People party Oleksandr Kornienko was appointed the first vice-speaker of the Verkhovna Rada
Alexander Kornienko / Photo: Facebook
The Verkhovna Rada has appointed Alexander Kornienko as the first vice-speaker, who is also the first deputy head of the faction and the head of the Servant of the People party. 256 deputies voted for this decision.
This is reported by "Today".
In particular, 222 votes were given by the Servant of the People faction, 13 by the For Maybutnu group, 17 by the Dovira group, and 4 more by non-factional people's deputies.
Sofia Fedina, a deputy from the European Solidarity faction of the fifth president, Petro Poroshenko, also applied for the post of first vice-speaker.
Let us remind you that the head of the Servant of the People faction David Arakhamia said yesterday, October 18, that the post of the first deputy head of the faction could be occupied by the people's deputy from this political force Andrei Motovilovets.
What is known about Kornienko
Alexander Kornienko was born on May 12, 1984 in Kiev. Graduated from the National Technical University of Ukraine KPI, where he received a Master's degree in Chemical Technology and Engineering.
2008 to 2010 studied at the Wiesbaden Academy of Psychotherapy (Germany) and at the Ukrainian Institute of Positive Psychotherapy, where he received the qualification of a basic consultant in positive psychotherapy.
He worked as a journalist for the magazine "Milk", site music.com.ua, editor of the All-Ukrainian youth newspaper "Young Guard".
In 2015, he worked at the headquarters of the candidate for the position of mayor of Nikolaev from the Samopomich party Alexander Senkevich.
Since November 2018, Alexander Kornienko has been working in the team of Vladimir Zelensky. He coordinated the ZeKomanda volunteer project, the Election Day project, and headed the election headquarters of the Servant of the People party. Elected People's Deputy of Ukraine from the Servant of the People party, No. 7 on the list.
On November 10, 2019, the Servant of the People party elected Alexander Kornienko as the new head of the party instead of Dmitry Razumkov, who became the speaker of the Verkhovna Rada.
We previously reported that "servants" asked Lyudmila Buimister to go out.
We also recall that in November 2019, members of the Servant of the People faction in the Verkhovna Rada expelled people's deputies Anna Skorokhod and now late Anton Polyakov from their ranks.
.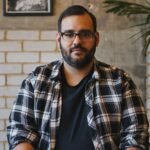 I am an author at Global happenings and I mostly cover automobile news. In my time working in the automotive industry, I have developed a keen interest in the latest developments and trends. My writing skills have also allowed me to share my knowledge with others through articles and blog posts.