"I want to thank my family, Andrea, my daughter, my sister, my mother. All those for whom I have been there less than they were there for me", said in the night Giorgia Meloni, leader of Fratelli d'Italia , concluding his speech in the party headquarters.
Elections, after the victory Meloni thanks his partner, his daughter and the staff
Andrea Giambruno, Mediaset journalist, 41, host of Open Studio, is the partner of Giorgia Meloni and the father of their daughter Ginevra, 6 years old. In an interview with Corriere Giorgia Meloni defined Andrea Giambruno "a fantastic father, very present. He spends a week in Milan a month, but when he is here he almost always works in the evening and during the day he stays with Ginevra a lot.
we help, we complement each other ".
Giorgia Meloni with her daughter. From the Facebook profile Giorgia Meloni
On 25 September Giorgia Meloni published a photo that portrays her in an embrace with her daughter, post accompanied by these words: "Thank you for the patience you have had in these years my love. Thank you for how, despite your six years, you understood, and endured my too many absences. Thank you for the way you run to me when I get home, and for when you tell me "mum good luck!". It's all for you. I love you "so a post from the president of Fratelli of Italy, Giorgia Meloni, on her Facebook profile.
ANSA agency
Arianna Meloni to her sister Giorgia, you and me like Sam and Frodo – Politics
Letter on Facebook on the eve of the vote (ANSA)
Source: Ansa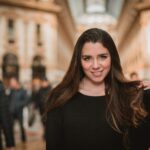 I'm a journalist who covers health care news. I've been working in the news industry for more than 6 years. I have experience writing for print, online, and television. My work has been published by various news websites and magazines.