While Apple is still very discreet about its projects in augmented reality and virtual reality, Facebook is preparing an important presentation in this area.
The number one social network, which has missed the turn of smartphones, has already abandoned its ambitions in this market. On the other hand, Mark Zuckerberg's company wants to become the main player in the field of AR / VR.
Currently, Facebook is already selling virtual reality headsets. Moreover, with the Oculus Quest type models, the company seems to have found the right formula to finally boost sales. And on the augmented reality side, Facebook is developing glasses that could be compared to Google Glass or Microsoft's Hololens.
But until this technology can be offered to the general public, the number one social network should launch simpler glasses. And to develop this product, Facebook has teamed up with the house of Ray-Ban glasses!
An imminent presentation?
On its website, Ray-Ban published a teaser suggesting that the product developed with Facebook will be unveiled on September 9 (tomorrow).
Facebook and Ray-Ban tease smart glasses announcement on September 9th https://t.co/mZc1hMcpDA pic.twitter.com/IjHkRLfdQK

— The Verge (@verge) September 7, 2021
And that's not all. On Twitter, Andrew Bosworth posted several videos showing clips that appear to have been filmed with future Facebook and Ray-Ban glasses. As a reminder, Bosworth is the boss of Facebook Reality Labs, the branch of Facebook that specializes in AR / VR.
???? pic.twitter.com/Vun7vmuCbU

– Boz (@boztank) September 6, 2021
A video that appears to have been filmed with the same device was also posted by Mark Zuckerberg's profile.
From these teasers, one could conclude that the first glasses from Facebook and Ray-Ban should include a camera that will allow the user to shoot "POV" type videos which can then be published on Facebook and Instagram. If this reminds you of anything, it's normal since Snapchat has also launched glasses equipped with cameras, before launching its first augmented reality glasses.
An important launch for Facebook
If a priori, Facebook's first glasses should not be particularly impressive technologically, it will be a first step for the company, which aims to launch real augmented reality glasses.
And this AR glasses project is very important for Facebook since Mark Zuckerberg believes that in the coming years, this type of glasses will replace smartphones.
"While I expect phones to remain our primary devices for most of this decade, at some point in the 2020s we will have groundbreaking augmented reality glasses that will redefine our relationship with technology.", wrote Mark Zuckerberg in early 2020.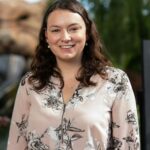 I am a technology author with 8 years of experience in journalism. My writing covers the latest technology advancements and trends, drawing on my expertise in news journalism and social media platforms. I have contributed to major media outlets such as The New York Times, The Wall Street Journal, and Reuters.