If you like coffee, but have always refused to use Nespresso capsules (and others) because these capsules are made of metal, this news may change your mind. Indeed, soon, instead of buying aluminum Nespresso capsules, you will be able to opt for the version in… compostable paper.
Paper capsules that you can compost at home
This is the latest innovation from the Nestlé subsidiary. According to this, the creation of this home compostable paper capsule (TÜV certified) required 3 years of research and development.
Indeed, it is not enough to use paper, since the taste also had to be taken into account. In this respect, according to Nespresso, this new capsule "perfectly" restores the taste of coffee that has made the brand's reputation, without compromise, while responding to users' concerns in terms of ecology.
Happy to announce our latest innovation. Thanks to years of research, our new coffee capsule made from paper is able to restore the unforgettable taste of Nespresso coffee while also being compostable at home.➡ https://t.co/mqNDcY56mj pic.twitter.com/zSllZDzmfT

— Nespresso Agit (@NespressoAgitFR) November 21, 2022
These new products will be compatible with Nespresso Originals machines and offered in France and Switzerland from 2023. Then, the paper capsules will arrive in other European countries in 2024. Nesspresso also specifies that in France, after use, the paper capsules are "allowed in the public collection of bio-waste".
In addition to aluminum caps (recycled and recyclable)
According to a Reuters article, the goal is not to replace aluminum capsules with paper ones, but to give consumers more choice. In any case, the company hopes to attract new consumers, and to keep current consumers, at a time when ecological concerns are increasingly important.
"We are once again choosing sustainability, without giving up quality", said Guillaume Le Cunff, CEO of Nespresso. It also reminds us that the aluminum capsules are made with 80% recycled aluminum. In addition, these capsules are recyclable.
Give the consumer a choice
Nevertheless, quoted by Reuters, Le Cunff explains that consumers are not always aware that these aluminum capsules are recyclable. Therefore, Nespresso believes that some might be reassured by the use of paper capsules.
"You can compost the paper capsules or recycle the aluminum ones. We let the customer choose"he added, still according to the British agency.
Source: Presse-Citron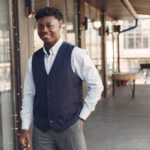 I am a journalist with over 6 years of experience working in the news industry. I currently work as an author for Global Happenings, and my coverage focuses on Technology news. I have written for various publications, including Reuters, The New York Times and The Guardian.