Chip shortages and geopolitical disputes have prompted Europe and the United States to strengthen their technological sovereignty. And among the essential components (for smartphones, computers, cars, and even defence) that must now be produced locally, there are chips.
And the good news for the United States is that the country has just taken an important step towards reducing its dependence on Asia for the production of these chips. Indeed, made in America chips for iPhones, Macs, and other electronic products are coming soon, thanks to a big investment from TSMC.
As a reminder, TSMC is a Taiwanese company that manufactures chips for Apple, and other technology companies. And thanks to its new factory in Phoenix, Arizona, TSMC will soon be able to supply chips made on American soil.
Macs and iPhones equipped with American chips
As reported by The Verge, this week was held a ceremony marking the arrival of equipment from the new TSMC factory, in the presence of US President Joe Biden, TSMC executives, but also Apple boss Tim Cook.
Apple silicon unlocks a new level of performance for our users. And soon, many of these chips can be stamped "Made in America." The opening of TSMC's plant in Arizona marks a new era of advanced manufacturing in the US — and we are proud to become the site's largest customer. pic.twitter.com/rBoiEUwZaX

— Tim Cook (@tim_cook) December 6, 2022
Indeed, Apple will be one of the first customers to use these Made in America chips. "Apple had to buy all the advanced chips overseas. Now we are going to do more of their supply chain here at home"President Joe Biden said at the ceremony.
The factory should be able to produce 4nm engraved chips from 2024. A second factory, still in Phoenix, will produce 3nm engraved chips from 2026. In all, TSMC plans to invest 40 billion of dollars.
Quoting the White House, The Verge indicates that these two facilities should be able to release 600,000 "wafers" (wafers) in 2026, which would be enough to meet American demand for advanced chips.
"The progress we've made with Apple Silicon has transformed our devices," said Tim Cook. "When you stop and think about it, it's amazing what chip technology can accomplish. And now, thanks to the hard work of so many people, these chips can be proudly stamped "Made in America."
As a reminder, the chip shortage in 2021, as well as supply problems, had generated a shortfall of $ 6 billion at Apple. Otherwise, among the other companies that will use chips produced by TSMC in the United States, there are also AMD and Nvidia.
Government incentives
It should be noted that in the United States, the Chips and Science Act has already been passed. This provides for an envelope of 52.7 billion dollars to encourage the production of semiconductors on American soil. And although it did not wait for this law, TSMC intends to benefit from this program.
Otherwise, in Europe, we also have the European Chips Act, which aims to secure the supply of chips to the European Union. According to the website of the European Commission, the project "Will mobilize more than €43 billion in public and private investment and set out measures to prepare for, anticipate and respond quickly to any future supply chain disruptions, together with Member States and our international partners."
Otherwise, as far as Apple is concerned, it should be noted that it also plans to use chips made in Europe on its products.
Source: Presse-Citron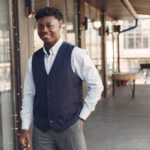 I am a journalist with over 6 years of experience working in the news industry. I currently work as an author for Global Happenings, and my coverage focuses on Technology news. I have written for various publications, including Reuters, The New York Times and The Guardian.

Quora – Discord – Pinterest – Medium – Tumblr