If Dyson is renowned in the eyes of the general public for its bagless (and cordless) vacuum cleaners, the British company also offers other products in its catalog, with fans, hair dryers and even air purifiers. A little earlier this year, this same Dyson unveiled an astonishing headset called "The Zone", which allows the user to simultaneously protect themselves from noise pollution and pollution in general. Explanations.
Dyson in da Zone!
The Dyson Zone headphones have real headphones for this, which house small compressors that suck in and prepare the air for filtration of fine particles and other pollutants. The air thus purified is returned to the user via a mask which is placed on the lower part of the face, at the level of the mouth and the nose. Note that the lower part is removable, if you want to use the product as headphones only.
During the presentation of its Zone headphones, Dyson remained very discreet regarding various details, in particular the audio specificities of its product, but also any date of availability or even a sale price. Today, the firm agrees to announce the price of this Zone headset, which will therefore be displayed at a price of 949 dollars when it is launched in the United States, which is (almost) double the price of an Apple AirPods Max headset.
On the availability side, Dyson also wanted to confirm that the Zone headphones will be launched next year, with the first deliveries already scheduled for March. On the color side, we can opt for two models to choose from, namely Ultra Blue / Prussian Blue and Prussian Blue / Bright Copper.
According to Dyson, the electrostatic filters that come with the headphones are designed to provide up to 12 months of use before needing to be replaced. The filters will be able to block 99% of particles, including those that do not exceed 0.1 microns.
As for the audio section, the Zone headphones will offer an active noise reduction function, not to mention a MyDyson companion app to choose between three dubbed audio equalization modes. At launch, the headphones will support SBC, AAC and LHDC audio codecs, as well as the Bluetooth 5.0 standard.
In terms of autonomy, the 2,600 mAh battery will allow you to enjoy the audio qualities of the Zone headphones for 50 hours. Of course, activating the air purification will drop the autonomy to 4 hours in Low mode, 2.5 hours in Mid mode and only 1.5 hours in High mode. The whole thing charges directly via a USB-C cable, with a full charge taking around three hours.
Source: Presse-Citron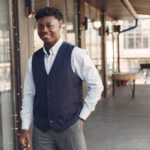 I am a journalist with over 6 years of experience working in the news industry. I currently work as an author for Global Happenings, and my coverage focuses on Technology news. I have written for various publications, including Reuters, The New York Times and The Guardian.

Quora – Discord – Pinterest – Medium – Tumblr