Ikea and Sonos have just revealed the 2nd generation of Symfonisk connected speakers which will be available at Ikea from January 2023. The design changes little – it derives from the first generation, with a new stand with long feet to place the lamp in height.
In a press release, Ikea explains that the 2nd generation invents the floor lamp speaker concept: "many people want to install various light sources in rooms to create the desired mood. The challenge of not having enough space for a table on which to put the lamp led us to create this floor lamp".
With the 2nd generation of Symfonisk speakers, Ikea and Sonos take to the skies
Considered more premium, these speakers will see their price increase compared to generation 1 lamps. The latter were offered in dollars $179.99 against $260 for the latest models. If you use a Sonos sound bar on your television, these lamps, like all Symfonisks, can be used as surround satellite speakers.
Note, however, that according to our colleagues from The Verge, this is not the cheapest option for surround sound in the Sonos range. The site recommends, for example, the One SL speakers. However, if you have designer fiber, this is probably the most aesthetically pleasing option at the moment.
For its part, Sonos should have a busy launch program in 2023. In addition to these new Symfonisk speakers, the firm is preparing the launch of "a new category of products" in 2023.
The Ikea press release, however, states that "Ikea and Sonos will continue to challenge themselves to find new solutions to improve life at home through good sound integration in furniture products".
The lampshade of these new lamps is bamboo color by default, but as with all first generation lamps, it is possible to choose different materials and textures. Between its design, the quality of sound reproduction and this support allowing the lamp to be placed high up and maximizing the surround effect, the Symfonisk 2.0 have everything to please customers.
Still, we can probably make a small criticism of this new design, which is supposed to save space: it would probably have been wise to offer, among other things, a small platform at mid-height in order to double the whole of a small table that would only take up a minimal footprint, wasting no useful space in your living room.
Source: Presse-Citron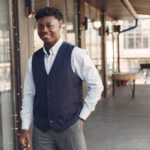 I am a journalist with over 6 years of experience working in the news industry. I currently work as an author for Global Happenings, and my coverage focuses on Technology news. I have written for various publications, including Reuters, The New York Times and The Guardian.

Quora – Discord – Pinterest – Medium – Tumblr