Five years. It took almost five years between the release of the first HomePod and its successor announced today by Apple.
Like the 14" and 16" MacBook Pro and the Mac mini with M2, M2 Pro and M2 Max chips, the 2nd generation HomePod had to settle for a discreet press release announcement.
It must be said that at first glance, this new Pompée connected speaker does not change much. Aesthetically, it is even in all respects similar to the first generation.
We therefore find a cylindrical design with a tactile glass coating on the upper side indicating when Siri is triggered. The speaker has a black or white mesh fabric (100% recycled) characteristic of the HomePod family.
After five years, we would have liked Apple to present us with a speaker with a slightly more daring look or, failing that, new flashy colors like those of the HomePod mini. Damage
Better sound, more relevant Siri
The real novelties of this 2nd generation HomePod cannot be seen, they are heard. "With the popularity of the HomePod mini, we saw growing interest in the powerful acoustics that a larger speaker could deliver" said Greg Joswiak, Apple's Senior Vice President of Worldwide Marketing. And to add:
We've leveraged our audio expertise and innovations to develop a new HomePod that delivers rich, deep bass, natural mids, and clear, detailed highs.
You would have understood it, this new HomePod promises better sound quality. Good news, the first generation not being bad but not exceptional either. Since then, Apple has demonstrated its know-how with stunning AirPods Pro, an impressive AirPods Max and amazing HomePod minis.
To ensure good audio performance, Apple has equipped this new HomePod with a custom-designed long-throw boomer, a powerful motor moving the diaphragm by 20mm and an internal microphone with bass equalizer, all combined with five tweeters with beamforming distributed around the base. The S7 chip combined with a good dose of algorithms promises stunning results.
Sure, the new HomePod has Spatial Audio allowing 360° listening and Dolby Atmos compatibility. It is also possible to associate two HomePods with an Apple TV 4K to afford a Home Cinema at a lower cost.
A new part detection technology allows you to analyze the reverberation of sounds on nearby surfaces to adapt the sound to the environment. It promises !
Siri is obviously part of it. Apple says it has improved its voice assistant, now able to interact with all (compatible) connected objects in the house.
Matter compatible (new connectivity standard for connected objects), the HomePod itself has home automation features. It has a temperature and humidity sensor allowing it to analyze the environments and request connected objects automatically (trigger the fan as soon as it gets too hot, for example).
2nd generation HomePod price and availability
The 2nd generation HomePod is already available at a price of 349 euros. The first deliveries and its marketing at partner distributors begin on February 3, 2023.
Source: Presse-Citron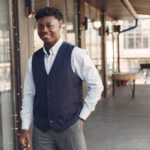 I am a journalist with over 6 years of experience working in the news industry. I currently work as an author for Global Happenings, and my coverage focuses on Technology news. I have written for various publications, including Reuters, The New York Times and The Guardian.

Quora – Discord – Pinterest – Medium – Tumblr