Apple is one of the leaders in the smartphone and computer markets, and dominates those of connected watches and wireless headphones. But the firm has difficulty competing with Amazon and Google when it comes to connected homes, although it already offers its HomeKit ecosystem, as well as products such as Apple TVs and HomePod speakers. Moreover, Apple is far from giving up on this market, since it has just launched a second version of its HomePod speaker, despite the mixed success of the first version.
And obviously, this is only the beginning. And after the HomePod 2 speaker, Apple should launch other connected home products. Indeed, according to a recent article by journalist Mark Gurman on Bloomberg, Apple is preparing the launch of a new, more efficient version of Apple TV, but also a connected screen. The latter would compete with products like Google's Nest Hub or Amazon's Echo Show. In addition to home automation functions to control the house, this screen would also be used for entertainment and calls via FaceTime.
Apple wants the connected home
Nevertheless, Apple would not be in a hurry. The firm would not release these new products until next year, at the earliest. Moreover, as usual, since this information does not come from an official source, caution is in order. But what is certain is that if Apple wants to compete with the offers from Amazon and Google, it must offer an equivalent of the Nest Hub or the Echo Show. Indeed, in a connected home, these screens serve as a control center for all smart products, such as lights, cameras, or even thermostats, not to mention household appliances.
In the meantime, it is on the screens of iPhone, iPad, Mac or Apple TV that Apple customers control their connected homes. And when it comes to the iPhone, Apple is constantly improving the interface that allows you to control connected devices from iOS. In addition, the firm can rely on the new Matter protocol, launched in 2022, which facilitates connection between devices, and of which this is one of the supports.
"Matter is a new smart home connectivity standard that will allow compatible accessories to work together seamlessly, across all platforms. Matter will let you choose from even more compatible smart home accessories and control them with the Home app and Siri on Apple devices"says Apple on the iOS 16 presentation site, which has adopted the technology.
Source: Presse-Citron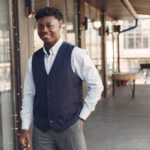 I am a journalist with over 6 years of experience working in the news industry. I currently work as an author for Global Happenings, and my coverage focuses on Technology news. I have written for various publications, including Reuters, The New York Times and The Guardian.

Quora – Discord – Pinterest – Medium – Tumblr