Just days away from the release of the highly anticipated Hogwarts Legacy game, Harry Potter is everywhere. The wizard even finds himself at the heart of a battle between Warner Bros. and Kano, a British startup. The clash between the two companies concerns a Harry Potter magic wand.
Harry Potter Wands of Discord
In detail, Kano is suing Warner Bros for violating the patent of this Bluetooth device and asking the American entertainment giant to stop marketing it. A so-called "cease and desist" letter was sent to this effect. To better understand the context of this action, it is necessary to go back to the past.
Thus, Kano has been marketing since 2018, a kit supposed to awaken children to coding, it includes a Harry Potter magic wand which allows them in particular to interact with the screen through various playful activities similar to spells.
This concept works very well commercially, and the British startup has therefore entered into a partnership with Warner Bros which has allowed it to sell 180,000 wands, and even 460,000 if we take into account the commercial agreements made with Disney.
According to our colleagues from TechCrunch, Warner Bros contacted Kano following this success to find out how this technology works. The American company then launched its own Harry Potter wand. Taking up the concept of choreographed spells, it allows you to interact with various connected objects such as televisions or speakers, or even turn on the light in a home.
Kano explains that he thought of developing this kind of use for his wand but was overtaken by Warner Bros. The British then contacted people within American society but relations were subsequently strained until they reached the current situation.
The lawsuit is not a certainty
Nothing says that the case will end up in court, but if that is the case, it could prove complicated for Kano who is very far from having the financial strike force of Warner Bros. In any case, its leader declares that he is determined to assert his rights.
Questioned by the British company, Warner Bros also reacted through a spokesperson who declared that "Kano's claims are baseless. »
Anyway, this should clearly not dampen the enthusiasm of Harry Potter fans. In France, the saga will also be available in the form of an immersive exhibition in Paris. To find out about the content of this event and the conditions of access, you can also read our article on the subject here.
Source: Presse-Citron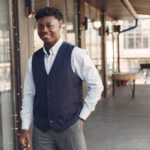 I am a journalist with over 6 years of experience working in the news industry. I currently work as an author for Global Happenings, and my coverage focuses on Technology news. I have written for various publications, including Reuters, The New York Times and The Guardian.