Launched the first new generation Starlink satellites, called Starlink V2 mini: more efficient than the previous ones and will act as a trailblazer for satellite connection services for mobile phones. The first 21 were launched last night, at 00:13 Italian time, from the Cape Canaveral base in Florida with a Falcon 9 rocket.
First Starlink v2 satellites reach orbit pic.twitter.com/0l08568mJ9

— Elon Musk (@elonmusk) February 28, 2023
The launch postponed by a few hours due to fears of an ongoing geomagnetic storm concluded successfully with the release of the 21 new satellites and the re-entry of the first stage of the Falcon 9 rocket on the A Shortfall of Gravitas platform which was located off the Florida. The new Starlinks are an updated version, V2, of the previous satellites with which SpaceX is building the large Starlink internet connection network which already offers the first connectivity services but which aims to grow further. The newly launched satellites, called V2 minis, are a smaller version of what will be the final V2s designed to be launched with the future large Starship launcher but contain many of the technologies of the new generation of satellites. The innovations are in particular in the communication system designed to allow internet connections to smartphones, a service on which there are already agreements with T-Mobile, and the new ion engines of the satellites which exploit the thrust of Argon gas for propulsion. The new innovative satellite thrusters would be cheaper than the previous ones, more efficient and above all much easier to obtain than the already used krypton and xenon. In the near future, the new Starlink V2 which should weigh around 1.2 tons, against the 800 kilos of the V2 mini version, will integrate into the dense network of Starlink satellites already in orbit which already has more than 3,700 operational satellites and aims to reach few years 7000 specimens.
Source: Ansa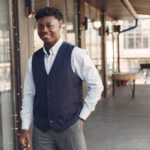 I am a journalist with over 6 years of experience working in the news industry. I currently work as an author for Global Happenings, and my coverage focuses on Technology news. I have written for various publications, including Reuters, The New York Times and The Guardian.