NASA presents the suits in which astronauts will walk on the moon. The Axiom company made them for the American space agency and they are intended for the Artemis III mission, destined to bring the first woman and the next man to the moon. The suits are presented live in an event organized by NASA and which we broadcast live on ANSA's Science and Technology channel.
Thus continues the collaboration with private individuals that has characterized the Artemis program from the outset. In fact, the largest rocket ever built, the Space Launch System that brought the Orion capsule into orbit in the Artemis I mission, the Orion capsule itself and the Earth systems that control it, and collaboration between agencies have been developed with the companies space and private sector is also behind the project for the construction of the future Gateway space station destined for lunar orbit, the landing systems and the pressurized modules for the future lunar base.
Source: Ansa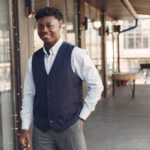 I am a journalist with over 6 years of experience working in the news industry. I currently work as an author for Global Happenings, and my coverage focuses on Technology news. I have written for various publications, including Reuters, The New York Times and The Guardian.