The puzzle of human smell has finally been deciphered, overcoming a setback in this field that has lasted for many years: the mechanism that allows the molecule of an odor to bind and activate an olfactory receptor has been seen in action; the first 3D map of this process was also obtained. The result, published in the journal Nature by the University of California at San Francisco, opens the way to a deeper understanding of many biological processes, but also to the possibility of inventing and designing odors that do not exist, for example for the perfume and the food one.
Human smell involves about 400 different receptors. Each of the hundreds of thousands of perfumes that we can perceive is made up of a mixture of different odorous molecules, each of which, in turn, can be detected by certain types of receptors: it is, therefore, a real puzzle, which the brain has to resolve every time the nose recognizes something in the air. A major obstacle towards understanding this mechanism at the molecular level, however, is represented by the considerable difficulty in obtaining olfactory receptors in the laboratory, a feat considered almost impossible.
To get around the problem, the researchers coordinated by Aashish Manglik and Hiroaki Matsunami managed to significantly improve the sensitivity of the tools used, which made it possible to work even with the minimum amount of receptors available: in this way, the authors of the study was able to observe live, for the first time, a molecule that connects with a human receptor at the very moment in which a perfume is detected. Not only that: they also managed to simulate the changes in the shape of the receptor that occur when the odor molecule binds, and which play a fundamental role in starting the signaling process underlying the sense of smell.
Source: Ansa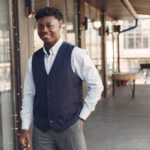 I am a journalist with over 6 years of experience working in the news industry. I currently work as an author for Global Happenings, and my coverage focuses on Technology news. I have written for various publications, including Reuters, The New York Times and The Guardian.