Between 20% and 40% of the carbon dioxide (CO2) emitted in the Campi Flegrei area comes from sources that cannot be traced back to magma and this value has been progressively increasing since 2005, with growth rates similar to those of the increase in temperature of the hydrothermal system. These are the results of the study published in the journal Geology by a team of researchers from the National Institute of Geophysics and Volcanology (Ingv).
"The Campi Flegrei caldera emits large quantities of carbon dioxide every day" explains Lucia Pappalardo, a researcher at Ingv. "The flows of this gas are mainly concentrated near the Solfatara crater in Pozzuoli and have progressively increased during the recent bradyseismic crisis, which began in 2005, reaching the current level of 3,000-5,000 tons per day. A value that makes the Phlegrean caldera one of the main emitters of carbon dioxide of volcanic origin in the world".
Carbon dioxide is the second volatile species contained in magma after water, and this has often led to the detection of a massive release of CO2 in the periods preceding the eruptive events. However, its origin is not exclusively attributable to magma, especially in the calderas that host extensive hydrothermal systems such as Campi Flegrei.
The study "has made it possible to estimate that up to 40% of the carbon dioxide emitted originates from the dissolution of hydrothermal calcite present in the rocks of the Phlegraean subsoil", explains Gianmarco Buono, a researcher at Ingv. "In detail – adds my colleague Giovanni Chiodini – this process is driven by the conversion of calcite, previously found in abundant quantities in the Phlegrean subsoil, into carbon dioxide following the circulation of hot and acid fluids in the rocks that host the hydrothermal system".
The research, which also offers a useful approach for other volcanic systems, "will continue with the quantification of carbon dioxide flows emitted into the submarine environment, which have remained unexplored until now", concludes Buono.
Source: Ansa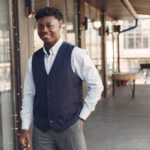 I am a journalist with over 6 years of experience working in the news industry. I currently work as an author for Global Happenings, and my coverage focuses on Technology news. I have written for various publications, including Reuters, The New York Times and The Guardian.