The Dragon cargo shuttle docked with the International Space Station (ISS) with a load of food, fresh fruit, various supplies and scientific equipment. Launched on March 15 from Cape Canaveral base with a Falcon 9 rocket, the SpaceX shuttle completed the entire approach and docking maneuver automatically.
Called CRS-27, it is the 27th resupply mission to the ISS carried out by the American company SpaceX on behalf of NASA and involves a Dragon shuttle on its third mission.
The cargo, docked to the Harmony module of the ISS, brought to its destination a load of 2,852 kilograms of useful materials for the astronauts who are on board the ISS, including fresh food such as apples, blueberries, grapefruit, oranges, cherry tomatoes and cheeses. Also on board are many materials necessary for activities in orbit and some new scientific experiments. Among these, two will use human cells and tissues to study cardiac dysfunction; also on board an experiment by the European Space Agency (ESA) to analyze the growth of bacteria in space and a device made by students of a Houston high school for video shooting in zero gravity. In the next few hours, the astronauts will complete a series of checks to check the perfect docking of the cargo shuttle and the correct pressurization, finally they will be able to open the hatch and start unloading the new materials that have arrived.
Source: Ansa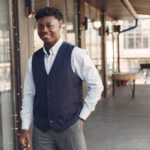 I am a journalist with over 6 years of experience working in the news industry. I currently work as an author for Global Happenings, and my coverage focuses on Technology news. I have written for various publications, including Reuters, The New York Times and The Guardian.