Google announces the end of Google Glass, which it still offered to businesses
But the firm is not abandoning augmented reality
Google could develop new glasses, and it is also in partnership with Samsung to develop an AR / VR product
Another product joins the Google graveyard: Google Glass augmented reality glasses. Although the firm no longer offers these glasses to the general public for a long time, it still sold the Glass Enterprise Edition, intended for professionals. But soon, even these professional versions of Google Glass will disappear. On its website, Google says it has stopped selling the glasses since March 15. In addition, the product will no longer have software support from September 15th.
As a reminder, the first Google Glass came out in 2013. At the time, when Mark Zuckerberg was not yet talking about metaverse, it was a real revolution. But despite the buzz generated by the launch, Google Glass never really appealed to the general public (too expensive?). On the other hand, Google has turned to enterprises with a more robust and powerful version. In 2019, the firm is releasing a second version of this edition for businesses.
Google is not giving up on augmented reality
In any case, the end of Google Glass does not mark the abandonment of augmented reality by the Mountain View firm. This was confirmed by a Google representative, quoted by our colleagues from The Verge. According to this rep, the company is still "deeply committed" to augmented reality. This also reminds us that Google has "integrated AR into many Google products and we will continue to look for ways to bring new, innovative AR experiences to our product portfolio."
Among Google's augmented reality products is its Google Lens search engine. On Android, the firm also offers AR Core, a software platform that allows app developers to create augmented reality experiences using the camera. And it is even possible that after abandoning Google Glass, the firm will release a whole new generation of augmented reality glasses. During the 2022 edition of its I/O conference, Google gave a preview of the new AR glasses it is working on.
The smartphones of tomorrow?
Another thing to know: Google is working on augmented reality with Samsung. During the Galaxy S23 series presentation in February, Samsung announced that it is working on an AR/VR product. And to create this product, the Korean giant relies on partnerships with Qualcomm and Google. Moreover, during the announcement of this project, TM Roh, the head of the mobile division of Samsung, invited Cristiano Amon, CEO of Qualcomm, and Hiroshi Lockheimer, the senior vice-president responsible for the ecosystems of Google, to to get on stage.
Although at the moment glasses and augmented reality helmets do not take off, it is a bet on the future. Indeed, some predictions suggest that this type of device could replace smartphones in a few years. Mark Zuckerberg, for example, is convinced of this. And that's why the Meta group spends almost lavishly to develop its future augmented reality products.
Source: Presse-Citron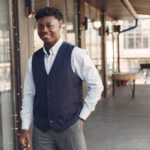 I am a journalist with over 6 years of experience working in the news industry. I currently work as an author for Global Happenings, and my coverage focuses on Technology news. I have written for various publications, including Reuters, The New York Times and The Guardian.