Discovered on March 13 and officially announced the following day, the small asteroid 2023EY greets Earth on March 17 from a close, but safe distance. In fact, it will go to 238,000 kilometresa distance equal to 62% of that which separates our planet from the Moon and which poses no risk to the Earth, observes astrophysicist Gianluca Masi, scientific director of the Virtual Telescope and organizer of the observation which will be broadcast live on the ANSA Science channel at 1.00 on the 17th March.
Asteroid 2023 EY has a estimated diameter between 13 and 29 metres and, according to calculations by NASA's Jet Propulsion Laboratory (Jpl), it will reach its minimum distance from the Earth at 12.35 on March 17, 2023.
This was discovered by the Atlas observation campaign, the early warning program organized by the University of Hawaii and financed by NASA, based on four telescopes (two of which are located in Hawaii, one in Chile and one in South Africa).
Source: Ansa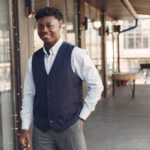 I am a journalist with over 6 years of experience working in the news industry. I currently work as an author for Global Happenings, and my coverage focuses on Technology news. I have written for various publications, including Reuters, The New York Times and The Guardian.