Does technology constantly surprise you? Then you'll want to check out these tech gadget concepts. We're featuring color-changing cars, VR workspaces, and more.
Lenovo Project Chronos remote workspace concept
Connect with remote colleagues in a realistic way with the Lenovo Project Chronos remote workspace concept. It allows you to experience virtual worlds from home without a headset. Collaborate on 3D projects, immerse yourself in games, and much more.
Samsung Flex Hybrid display
Future laptops may come with slider and foldable features if the Samsung Flex Hybrid display is any indicator. This next-generation laptop folds in from the left side of the screen and slides out from the right side. Enhance your work, movies, and more with these flexible options.
Sony Project Leonardo accessibility controller kit for PS5
The Sony Project Leonardo Accessibility Controller Kit for PS5 works with third-party accessibility accessories, allowing users to design their own gaming experience. The kit includes interchangeable components and the software has access to updates.
Razer Project Carol immersive head support
Make your gaming setup more immersive without all the surround speakers with the Razer Project Carol Immersive Head Mount. This cool concept gadget combines haptic feedback and surround sound right into your headrest while keeping its setup minimalist.
Dell Alienware Concept Nyx Game Controller
Tired of fighting with family members or roommates over who gets to use the TV screen? Your disputes could end if the Dell Alienware Concept Nyx gaming controller comes true. It has many features that allow players to access their libraries across multiple screens and devices.
SCIO magnetic camera system
Taking professional-quality photos from your iPhone could become much simpler if the SCIO Magnetic Camera System for Smartphones is created. It consists of a chamber, filters, and a lid with a ring of magnets connecting the pieces.
Herman Miller-Inspired Hiking Backpack
Lighten heavy loads with the Herman Miller-inspired hiking backpack. This conceptual backpack has a lightweight structure that helps users transport important equipment and devices safely. In addition, it is waterproof.
D-TWS True Wireless Earbuds
Managing your earbuds is easier than ever when it's the D-TWS true wireless earbuds. Its interactive touch screen displays information about your headphones and allows you to change settings by touch.
Ram Revolution Concept truck
Enjoy power and range in an all-electric design with the Ram Revolution Concept Pickup. This electric truck uses the STLA frame platform, which provides space for the large battery. Meanwhile, autonomous capabilities, capacitive controls, and voice activation further enhance this impressive vehicle.
BMW i Vision Dee concept vehicle
You can change the color of the BMW i Vision Dee Concept vehicle to match your mood thanks to its cool e-ink technology. It even has facial expressions and a voice, giving your car a human touch.
Source: Soltekonline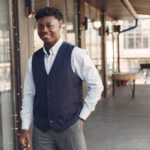 I am a journalist with over 6 years of experience working in the news industry. I currently work as an author for Global Happenings, and my coverage focuses on Technology news. I have written for various publications, including Reuters, The New York Times and The Guardian.