The new Vappeby speaker that IKEA has just unveiled promises 80 hours of autonomy, all with IP67 certification
It is offered at a price of $15, or €14.10 if we do the raw conversion (the exact French price remains unknown)
Available in three colors, it can be paired with another speaker of the same model to create a stereo set
IKEA continues its offensive in affordable designer audio products by launching a waterproof Bluetooth speaker in the Vappeby range. The connected speaker will be available from April at the particularly low price of $15 – or €14.10 at the current rate. This compares the device very favorably to the most entry-level current references. Stjepan Begic, design manager at IKEA, explains in a press release that the main objective of this new speaker is to "offering quality sound in a versatile product that can be used anywhere".
The rather design speaker is covered with silicone. It is available in three colors: yellow, black and red. In addition to its really very aggressive price, its three great strengths are its XXL autonomy which can reach up to 80 hours (with a volume limited to 50%), its IP 67 certification which allows it to be used in bathrooms. and near the swimming pool, and finally its audio quality, enhanced by the possibility of pairing two speakers to create a stereo set.
The latest Vappeby speaker is only $15
Vappeby is not a new range at IKEA. The brand is already attached to two bluetooth speakers. One looks like a kind of duck, with its "beak", its handle, its yellow cable and its very playful shape. The other is a speaker that also acts as an outdoor lamp, available in two colors anthracite blue and gray. Each time we talk about products marketed at very low prices.
But all indications are that the latest addition to the lineup will be an even lower entry point. Note that with its expected price around €15, IKEA does not include a USB type C charger in the box of the device. To charge the speaker, you can either buy a dedicated charger and cable, or simply use the charger for your smartphone, laptop or any other USB-C charger lying around in your drawers.
The new Vappeby speaker should land in many IKEA markets including France during the month of April. Given its price, it will probably be necessary to be reactive. The first few weeks the product is likely to be chronically out of stock. IKEA has made a remarkable entry into connected audio for a few years now.
The first range to land in the blue and yellow expo-depot stores is called Symfonisk. IKEA has the originality of offering a range of connected HiFi speakers lined with lamps and other interior design elements, as if to better blend them into your home. The range, designed in partnership with Sonos, has had some success since its launch.
Source: Presse-Citron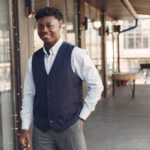 I am a journalist with over 6 years of experience working in the news industry. I currently work as an author for Global Happenings, and my coverage focuses on Technology news. I have written for various publications, including Reuters, The New York Times and The Guardian.