A British company offers a robot called Homer that serves beer
The user controls the device by thought, via an EEG technology placed on his head
The more concentrated we are, the less foam we will have
Homer isn't the only robot capable of serving beer. But its particularity is that it is controlled by thought. In order for this robot to serve the drink correctly, you must be sufficiently focused. As reported in a recent Indy100 article, the genius behind this funny machine is Seth Jackson, an "expert" in robotics and neuroscience.
Mind-reading beer robot pours the perfect pint pic.twitter.com/DmBuneim9l

— The Independent (@Independent) March 20, 2023
Before being served, the customer must wear an encephalographic device on his head. It doesn't tell what the user is thinking. But the EEG measures the activity of the brain and therefore makes it possible to measure the level of concentration. And the more the customer is focused, the better he will be served. The robot also includes a tablet that displays a concentration score.
A focus exercise
The site of Thirsty Thoughts, the London company that offers this robot, recommends focusing on one thing and one thing only, while Homer pours the beer. "Simply put, one sparkling spirit = one frothy pint"we read in the presentation of the robot.
According to Metro, the idea germinated 8 years ago, and the prototype then turned into a commercial activity. To date, Homer has already poured over 10,000 pints, analyzing the user's brain with his EEG machine.
The idea seduces large companies
Thirsty Thoughts assures that currently, Homer is "the one and only mind-controlled beer pouring robot in the world". And the idea is a hit for events, since the company claims that it has already counted companies such as Twitter, Google or BlackRock among its customers. This robot has been around for years, but this one recently got buzz following the release of a BBC video.
Introducing Homer, a mind controlled beer pouring robot by @strangethoughtx ft. @duel. At #TwitterLive this week pic.twitter.com/u6zIM3pMVs

— Twitter Marketing UK (@TwitterMktgUK) April 28, 2016
And if you're more of a Champagne lover than a beer lover, Thirsty Thoughts has another robot, called Mathilda. This is not controlled by thought, but with the hands, from a distance, to pour the champagne into the cup. The bottle is controlled with the left hand, while the cup is controlled with the right hand.
Source: Presse-Citron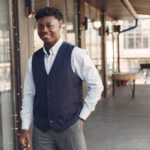 I am a journalist with over 6 years of experience working in the news industry. I currently work as an author for Global Happenings, and my coverage focuses on Technology news. I have written for various publications, including Reuters, The New York Times and The Guardian.