The mechanism underlying the 4.6 magnitude earthquake that occurred in Molise at 11.52 pm last night is similar to the one that generated the 6.0 magnitude earthquake in 2002, near the municipality of San Giuliano di Puglia, when the shock reached . Claudio Chiarabba, director of the earthquake department of the National Institute of Geophysics and Volcanology (Ingv), told ANSA.
"The earthquake originated in the transition area between the Apennine chain and the Adriatic area, at a depth of 23 kilometers. It is precisely this greater depth – says Chiarabba – that allowed the shock to spread over a fairly large area". The earthquake was in fact also felt in Puglia, Campania, Abruzzo and Lazio. Last night's earthquake was transcurrent, "that is, it is a matter of horizontal sliding between two blocks", explains the researcher.
The first shock, with its epicenter in Montagano, almost 10 kilometers from Campobasso, was followed by aftershocks of magnitude between 2.0 and 2.6. The most recent, of magnitude 2.4, was recorded this morning at 06.54, again with its epicenter in Montagano. "This is normal behavior, but it's too early to understand how quickly the phenomenon will decrease," Chiarabba noted. The earthquake had been preceded in recent days by smaller shocks, located between the municipalities of Sant'Elia a Pianisi and Ripabattoni (also in the province of Campobasso), which did not exceed magnitude 3.1. Yesterday, for example, three events of this type were recorded: two in Sant'Elia a Pianisi, which took place at 00.23 and 02.20 respectively with magnitude 2.1 and 3.1, and one at 03.55 in Ripabattoni , with magnitude 2.0.
Source: Ansa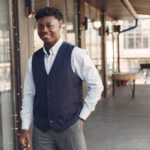 I am a journalist with over 6 years of experience working in the news industry. I currently work as an author for Global Happenings, and my coverage focuses on Technology news. I have written for various publications, including Reuters, The New York Times and The Guardian.