(ANSA) – CAPE TOWN, MARCH 31 – It is "also thanks to scientific and technological cooperation" that Italian exports to South Africa reached the "record figure of over 2.3 billion euros" in 2022. This was reported by a press release from the Italian Embassy in Pretoria reporting on a conference on applied scientific research in the context of Italy-South Africa cooperation held the day before yesterday in Johannesburg as the fourth international appointment in preparation for the Trento 2023 Festival of Economics .
"Italy and South Africa share an intense and fruitful collaboration in highly innovative and high-tech areas, crucial for economic growth and sustainable development, also thanks to numerous agreements between universities and research institutes in the two countries, to the action of over 120 Italian researchers working in South Africa, and to the Executive Program of Bilateral Scientific and Technological Collaboration, renewed for the next three years", recalled Ambassador Paolo Cuculi.
"Among the most important initiatives, the 'Square Kilometer Array' radio telescope stands out, which will be built in South Africa and of which Italy is one of the main international partners (with funding of 120 million euros over 10 years) and the Memorandum of Understanding on artificial intelligence signed by the 'International Foundation Big Data and Artificial Intelligence' of Bologna and the 'South African National Integrated Cyber ​​Infrastructure Initiative', added the ambassador as reported in the press release released yesterday.(ANSA).
Source: Ansa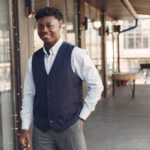 I am a journalist with over 6 years of experience working in the news industry. I currently work as an author for Global Happenings, and my coverage focuses on Technology news. I have written for various publications, including Reuters, The New York Times and The Guardian.