The initiative belongs to the head of the British Foreign Office Liz Truss
Britain is developing new triangular ties with Poland and Ukraine. Collage "Today"
British Foreign Secretary Liz Truss is considering a tripartite alliance between Britain, Poland and Ukraine.
Information about this posted British Geostrategy Council on Twitter.
Details
The published tweet presents a geopolitical map on which a triple axis is formed between London, Warsaw and Kiev. The Russian Federation and Belarus are designated as hostile territories.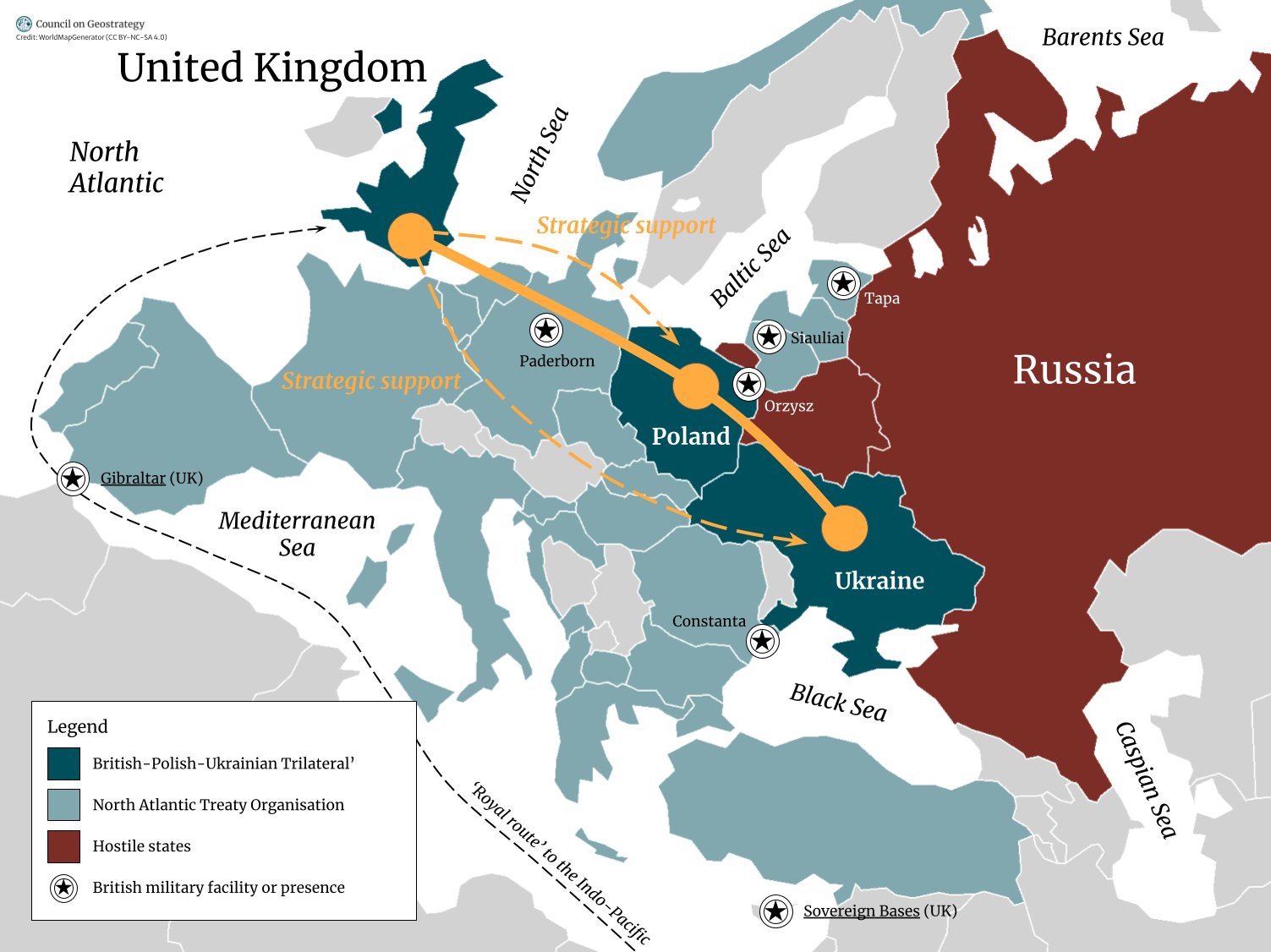 Information about the work on the creation of a tripartite alliance was also confirmed by Liz Truss herself during a speech at the Lowy Institute, as informed by the official website of the British government.
"We are strengthening our partnership following high-level talks in London in December and developing new triangular ties with Poland and Ukraine," the British Foreign Secretary said.
Truss also expressed unconditional support for Kiev.
"The Kremlin has not learned the lessons of history. They dream of recreating the Soviet Union or something like "Great Russia", dividing the territory along ethnic and linguistic lines. They say they want stability, while at the same time trying to threaten and destabilize others. We know what lies in this path, and what a terrible loss of human life it will bring. That is why we call on President Putin to refrain and back away from Ukraine before he makes a major strategic mistake," Truss said.
According to the British Foreign Secretary, Ukraine is a proud country with a long history.
"They have been invaded before, starting with the Tatar-Mongol yoke. They suffered from a state-managed famine in the 1930s. Their resilience is admirable. If necessary, the Ukrainians will fight to defend their country. A Russian invasion of Ukraine will lead only to a protracted war, following the example of the Soviet-Afghan war or the conflict in Chechnya," Truss added.
Note that the Geostrategy Council is an independent non-profit organization based in Westminster.
Speaking at the @LowyInstitute today, #UK Foreign Secretary @trussliz outlined the formation of a new Trilateral between the UK, #Poland and #Ukraine. What does this new group look like? And what is its geostrategic purpose? We depict it here in this helpful geopolitical #map! pic.twitter.com/A0HB0jQxvn

— Council on Geostrategy (@ConGeostrategy) January 21, 2022
Recall, Britain announced its readiness to transfer even more defensive types of weapons to Ukraine in addition to the 2,000 anti-tank missile launchers sent this week.
Weapons for Ukraine
Recently, a batch of international technical assistance from Britain arrived in Ukraine. Aircraft delivered light anti-tank weapons.
Russia accused the UK of fomenting tensions in the region by the deployment of weapons. Moscow's embassy in London tweeted: "It is clear that the supply of deadly weapons from the UK to Ukraine will only fuel the crisis and heighten tensions."
The Czech Republic, Lithuania, Canada and Germany also intend to strengthen military cooperation with Ukraine because of the threat of Russian aggression. In particular, Lithuania has already approved a military support plan for Ukraine, according to which the number of training mission instructors will be increased and thermal imagers will be purchased.
.

Source From: Segodnya