5.2.2023
After graduating from school, I had only one goal in life, and that was to become a famous rock musician. My parents managed to convince me of the need to have a plan B in case it didn't work out. It was decided that I should study foreign languages.
Today I have to think about this career that never happened because I am suddenly in urgent demand as an interpreter. The band Papa Karlo is playing in Berlin for the very first time and has a lot to tell, but the musicians don't speak German.
I returned from Bautzen in the night, where yesterday the premiere of the children's musical "Back with the light!" finally took place in the Thespis center. It was originally planned for December, but an insidious virus has put our young actors out of action. That was a great pity, the performance would have been ideal for the Christmas season, but on the other hand I was very happy to have the opportunity to see everyone involved again.
The weeks after the failed December premiere were actually good for our musical – there was plenty of time for rehearsals, and when I looked at the result on Thursday, I was very impressed with the progress. The kids seemed much more confident on stage, both with the lyrics of their roles and with the songs that we wrote for them with Grigory Semenchuk.
I met some of these young actors and their parents back in 2020 when I was traveling in Donbass with the international team of theater makers Misto To Go. I am glad that they have been in Germany since March 2022 and are out of danger, but I have to think about their hometowns, the places where we met back then – and the current pictures of them, where mostly nothing but ruins can be seen…
I've lived in Prenzlauer Berg for 27 years and rarely come to Steglitz-Zehlendorf, but today I really had to go. As someone who comes from Kharkiv, I simply cannot miss this historical event: A band from Kharkiv is playing in Kharkiv Park: a must!
The sound is almost cute, but the lyrics are full of anger
On the way to Steglitz, on the U9 train, I manage to read the messages on my cell phone. No matter which portal you follow, the news from Ukraine has often been depressing for almost a year. In the night Kharkiv was shelled again, two rockets hit a university building in the city center, a residential building was also destroyed, so far three dead people have been reported.
Kharkiv Park is located just a few meters from the Rathaus Steglitz train station. I'm there just before the concert starts, hugging Wasil Riabko, the band's guitarist and singer. His older brother, who has always played drums since Papa Karlo was founded, is currently in the military and was not allowed to come on the European tour. The musicians had a new drummer rehearse the concert program. And one day before the trip, it turned out that the bassist wasn't allowed to leave the country either. The band now plays unplugged, but also convinces with this reduced line-up.
Their set consists mainly of the songs that were written last year. During the breaks I have to translate Wasil's announcements. Even for the part of the audience that does not speak Ukrainian, the perception of the songs changes as soon as one understands what their lyrics are about.
Musically, Papa Karlo moves between old-fashioned rock 'n' roll and country, with acoustic instruments and female vocals the band almost sounds cute, but their lyrics are full of anger. "The next song is called '11 p.m.'", announces Wasil, I translate. "Since February 2022, our Russian brothers have been shelling us with their bombs and rockets every day at 11 p.m. for months. We composed this song for her."
Despite all the horror, optimism shines through in Papa Karlo's songs, and her audience is grateful for that today. I know they'll be back – hopefully in summer when it's warm and sunny. And the band line-up complete. And Ukraine won the war.
To home page
Source: Tagesspiegel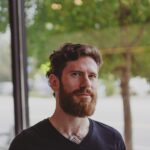 I have been working in the news industry for over 10 years now and I have worked for some of the biggest news websites in the world. My focus has always been on entertainment news, but I also cover a range of other topics. I am currently an author at Global happenings and I love writing about all things pop-culture related.