The March sky is inaugurated by one of the most spectacular astronomical events of the year: the 'kiss' between the two brightest planetsVenus and Jupiter, which will be found at minimum distance in the morning of March 2nd. It will therefore be possible to admire this close encounter at the beginning of the month, notes the Italian Astronomers' Union (Uai). The first night Venus will still be slightly lower than Jupiter on the western horizon, in the constellation of Pisces, while the following night the 'overtaking' will have already been completed and the positions will reverse, with Venus above Jupiter.
The conjunction of Venus and Jupiter, photographed on March 1, 2023 (source: Paolo Volpini – Piombino Amateur Astronomers Association (LI) / Italian Astronomers Union)
Conjunction of Venus and Jupiter on March 1, 2023 The 4 dots near Jupiter are the main moons: above Callisto, Ganymede and Io, below Europa (source: Paolo Volpini – Piombino Amateur Astronomers Association (LI) / Italian Astronomers Union)
In addition to these two planets, Mars will also be easily observable, high in the evening sky, where it completes its long journey in the constellation of Taurus; after a stay lasting several months, on March 26 the Red Planet will enter the constellation of Gemini. March is also the month of the spring equinox, that moment in which the duration of the hours of light equals that of the hours of darkness: it will be on the 20th, exactly at 10.24 pm Italian time. At the end of the month, then, summer time will come back into force: on Sunday 26 March, the hands will be moved forward by one hour.
In the second half of March, the bright transits of the International Space Station (ISS) will return in the evening, but it is also worth keeping an eye on the processions of SpaceX Starlink satellites, which last February were the protagonists of some spectacular sightings . Finally, March will witness the transition from winter to spring constellations: in the early hours of the night, in the eastern sky, the great zodiacal constellations of Leo and Virgo make their appearance. Always unmistakable Orion, with the three aligned stars of the belt, while in the lower left shines Sirius, the brightest star in the sky.
Source: Ansa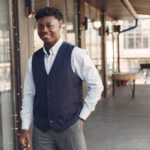 I am a journalist with over 6 years of experience working in the news industry. I currently work as an author for Global Happenings, and my coverage focuses on Technology news. I have written for various publications, including Reuters, The New York Times and The Guardian.