They were exported as far as France, largely supported by Apple Stores. They are the Ember cups, imagined in Los Angeles and have become one of the most useless (and expensive) tech objects on the market. Via an application and a temperature control system, customers who paid at least 150 euros had access to the luxury of being able to drink their coffee… hot.
The temperature-controlled cup can give a cool and trendy side, but it is close to the autonomous suitcase and these connected objects whose experience makes us quickly realize that we made a mistake by breaking our wallet. Ember understood this well and reoriented itself towards the professional world by offering its cold chain control services to the medical community.
Now Ember is going back to the consumer side and resurrecting its temperature control technology into a convenient bottle. This was certainly where we should have seen Ember coming straight, but let's not start fussing and let's look at this new product for newborns and young parents.
In the same way as the connected cups, the bottle is connected to a mobile application and a base called "Smart Warning Puck". Like a kettle, the system heats the contents of the bottle and maintains it at a very precise temperature, without you having to take care of it yourself. On the support, the temperature remains controlled and stable. It is also possible to heat remotely with a simple command from the app.
Giving parents time back
During their first year, a newborn usually needs bottles the most and all new parents know how time-consuming and careful preparation is. Generally, it is after 10 to 12 months that babies begin to tolerate cold milk, thus leaving a long period for parents during which the fatigue of short nights will be accentuated with the bottle schedule.
"I knew there had to be a better solution to conventional bottles, so I started to brainstorm ideas that eventually led to the Ember bottle system. It was designed to give parents time back, so they spend less time worrying and more time being there to enjoy those precious moments with their baby."Ember CEO Clay Alexander said in a statement.
On the other hand, it will be necessary to pay the price to be able to afford it. In the United States, on the brand's website, it costs $400. With him, two bottles and two teats, access to the updated application with the new product and its various functions. Its marketing in Europe should arrive a little later while the brand's website has not yet been updated.
Source: Presse-Citron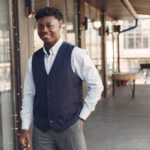 I am a journalist with over 6 years of experience working in the news industry. I currently work as an author for Global Happenings, and my coverage focuses on Technology news. I have written for various publications, including Reuters, The New York Times and The Guardian.