Shaye Groves is a fan of serial killings and has pictures of famous killers like Ted Bundy and Jeffrey Dahmer on her bedroom wall.
Playback/Facebook/Shaye Groves
Shaye Groves, 27, killed boyfriend with 22 stab wounds

THE british Shaye Groves, 27, killed her boyfriend, Frankie Fitzgerald, 25, with 22 stab wounds in July 2022, after becoming obsessed with her boyfriend's performance in the bedroom and the couple's sex life, which involved sadomasochistic practices. After the crime, she made a video call with a friend to celebrate the action, reported the portal 'The Mirror'. Groves is a fan of serial murder and has pictures of famous killers like Ted Bundy and Jeffrey Dahmer on his bedroom wall. According to authorities, the woman had four 'decorative' knives that the couple used to play in the bedroom. Groves denies having murdered his partner and says it was self-defense, however, the incident is being treated as a "crime of passion". The court of law investigated that the woman sent around 5 am a message to her friend Vikki Baitup to create a false alibi inspired by true crime documentaries. Around 7 am, the alleged perpetrator of the crime called her friend laughing and they had a very normal conversation. That's when she went upstairs, into her room, pointed the camera at Fitzgerald and said, "I'm done with him." Baitup said she was horrified to see the man's body with a massive knife wound. Groves revealed to friends that she had discovered her partner was texting a teenage girl. According to a report by authorities, Fitzgerald was stabbed 17 times in the chest, twice in other parts of the body and three times in the neck, resulting in death from "multiple puncture wounds to the heart and lungs." The case is being judged and is still expected to last another four weeks.
Source: Jovempan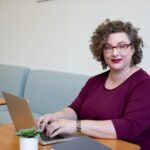 I have been working as a journalist for over 10 years. In that time, I have covered the news from all corners of the world, and written about everything from politics to business.I'm now a full-time author, and my work can be found at Global happenings. My aim is to bring you up-to-date news and views on global affairs, in a format that is easy to read and understand.