The twins Maria and Natalia Petschatnikov from St. Petersburg are a great artist couple. Expert in painting, sculpture and installation. Infected with a love of old masters and old-fashioned museums even in childhood, while training in the children's painting school at the St. Petersburg Hermitage.
"Our hero was Rembrandt, not Lenin," say the sisters, born in 1971, who at 17 went to the USA and then to France to study art. And finally, in 2010, choosing Berlin as their home base, like many Eastern European artists.
Melancholy and wit
Now the Russians have clad the gallery in the Körnerpark in Neukölln with a walk-in total work of art that covers the floor and walls. "Hidden People" is the name of the work in which Maria and Natalia Petschatnikov reflect on a trip to Iceland.
The elongated space of the former park orangery imitates a street that leads through the abstract landscape of the island of fire and ice. It is structured by rock formations made of cardboard and painted impressions of nature, which also include a shepherd and his flock – partly painted, partly made of cardboard.
The skeletons of dead fish and sea birds, which often gleam in the black lava sand of the beaches as a conspicuous memento mori, are taken up by the sisters, who pick up every pathos, in funny skeleton sculptures on the roadside.
Melancholy and wit can always be seen in the "low-threshold" works by Maria and Natalia Petschatnikov, which are also popular with children. This time they have incorporated (in) visible traces of the "Huldufólk" elves from Icelandic mythology. The fact that nature is still puzzling people while they are massively changing and exploiting it resonates with every step on the Pappstrasse.
The plastic bag on the front of the installation, blown up by a wind machine, reminds of this. The painting of an old Icelandic man crouching on a discarded office chair next to his white ram is the strongest image of the imagined Iceland.
Could there be an agreement between human civilization and the creatures of nature after all? Certainly only if the streets are respectfully built around the places of the "Hidden People".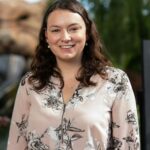 I am a technology author with 8 years of experience in journalism. My writing covers the latest technology advancements and trends, drawing on my expertise in news journalism and social media platforms. I have contributed to major media outlets such as The New York Times, The Wall Street Journal, and Reuters.