Decidedly, the tensions between the United States and China remain more topical than ever. On Friday, the Federal Communications Commission (FCC) announced a ban on telecom equipment and services provided by several major Chinese technology companies. Among them, we find in particular Huawei, ZTE, but Hytera, Dahua, and Hikvision.
A threat to the national security of the United States
According to the American federal authority, these companies thus represent a threat to the national security of the United States. Consequently, they will no longer be able to sell their telecom equipment on American territory, and will no longer obtain any marketing authorization.
In a press release published for the occasion, Jessica Rosenworcel, president of the FCC, wanted to be very clear: "These new rules represent an important part of the actions put in place to protect the American people against threats to national security involving telecommunications equipment".
According to the leader, companies such as Huawei and ZTE have been identified as posing security problems via their telecommunications equipment as early as 2019. However, the FCC "has continued in recent years to grant its approval to this equipment".
She adds : "In other words, we left open opportunities for their use in the United States through our equipment authorization process. We now propose to close this door".
For the time being, the Chinese companies concerned such as Dahua, Hytera, ZTE, or Huawei have not commented on this decision. Only Hikvision, a company that provides CCTV equipment, spoke. According to Bloombergthe company believes that it does not present "no threat to the security of the United States and there is no technical or legal justification for the decision of the Federal Communications Commission. »
She points out that this decision "will make it harder and more expensive for American small businesses, local authorities, school districts and individual consumers to protect themselves, their homes, businesses and property. »
The trade war between the United States and China is in full swing
In any case, anyone who thought that Joe Biden's government was going to opt for a much more accommodating attitude towards China was wrong. The Democratic leader is acting as firmly as his predecessor Donald Trump on this issue.
It is also worth recalling that last October, the US Department of Commerce prevented Chinese technology companies from obtaining certain semiconductors that contain American material, regardless of their origin.
This is a real concern for the Chinese government, which hoped to take the lead in major technological fields such as artificial intelligence or supercomputers.
Source: Presse-Citron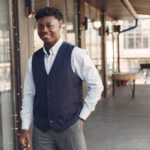 I am a journalist with over 6 years of experience working in the news industry. I currently work as an author for Global Happenings, and my coverage focuses on Technology news. I have written for various publications, including Reuters, The New York Times and The Guardian.

Quora – Discord – Pinterest – Medium – Tumblr