Apple just released iOS 16.4 update, which includes new emojis
Among these new emojis, there is "shaking face"
You can use it in case of an earthquake, if you were surprised, or if you see double
This new emoji, called "shaking face" or shaken face in French, is likely to appear very regularly on your smartphone or PC screens. Announced by the Unicode standard in 2022, this symbol is part of a series of new emojis that Apple has just introduced on the iPhone via the iOS 16.4 update.
In all, 31 new emojis land on the iPhone. But that of the shaken face seems to have particularly attracted the attention of Internet users. For example, Gearoid Reidy, a journalist at Bloomberg, explains that this new emoji will unfortunately be very "useful" in Japan, where earthquakes are frequent.
New "shaking face" emoji in iOS 16.4 is unfortunately going to be very useful in earthquake-prone Japan.. pic.twitter.com/uQLhEb8dus

— Gearoid Reidy リーディー・ガロウド (@GearoidReidy) March 28, 2023
But the shaking face emoji can also be used to express emotions, without having to use words. "I love the new shaking face emoji, there are too many times I've been completely shocked during a text chat!"writes for example this former journalist.
Have you seen all the new emojis available with today's iPhone update?

I'm loving the new shaking face emoji, there are too many times i've been in complete head-shaking-shock during a text chat!

What are your thoughts on the new emojis? #emojis #shock #headshake pic.twitter.com/Jg8evRFbBE

—Troy Murphy (@troymurphy) March 29, 2023
"I also like the shaking face emoji So if I'm scared or can't wait I can use that emoji lol," comments this user.
🫨 I love the shaking face emoji as well So, If I am scared, or excited I can actually use that emoji lol

— Sweetice (@sweeticetv) March 27, 2023
One emoji, many senses
In essence, like thumbs up or eggplant, this new origin will have multiple meanings. According to a Unicode document, this inspired emoji "of a common convention used in comics and illustration to show tremor, vibration, movement, or double vision."
The Emojipedia site indicates that this new emoji can express the fact that you have been shaken by external elements, such as an earthquake, a noise, or "a dinosaur walking by". But you can also use it if you feel fear, shock, confusion, disbelief, anticipation, or excitement, and you are jolted by that feeling. Finally, the site also specifies that this symbol can also represent vertigo or the fact that you are seeing double.
And since it's a Unicode standard, this new emoji won't be restricted to iPhones. The standard was approved in September 2022 by Unicode. And it is also available on Samsung and Android devices. Other platforms are expected to adopt the new emojis this year.
As usual, while the symbol is the same, its representation differs from one platform to another, or even from one website or application to another. Below is a screenshot from Emojipedia that shows how the shaking head will be represented by Apple, Google, Samsung, and Facebook.
Source: Presse-Citron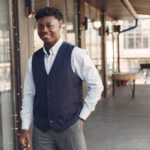 I am a journalist with over 6 years of experience working in the news industry. I currently work as an author for Global Happenings, and my coverage focuses on Technology news. I have written for various publications, including Reuters, The New York Times and The Guardian.