(ANSA) – LA SPEZIA, MARCH 30 – An Italian student has helped to design the separation mechanism of the spacecraft of NASA's future Mars Sample Return (MSR) mission, destined to bring the first samples of the Martian soil to Earth. The student is called Dalia Raafat, she is the representative of the students of the master's degree course in Mechatronics at the Marconi Campus in La Spezia and she graduated today at the University of Genoa in La Spezia, after having obtained a thesis opportunity at the american space agency, within the Jet Propulsion Laboratory (Jpl). in California.
The artifact modeled with Cad software, manufactured, assembled and tested by the student, will have to contain, mobilize and then release the set of samples taken on Mars. For Raafat "it's a dream come true. Among the things that most excite me about this job is the creativity required in designing a mechanism from scratch and the ability to follow all the design phases. The idea of ​​also managing the hardware component I'm very passionate about and the team I work with is incredible, there are really smart and humanly exceptional people".
Among these Michelle Easter, cognizant engineer of the mechatronics group at NASA. "Mars Sample Return is a complex and fast-paced mission, requiring mental flexibility and creative thinking. Having support from talented young people like Dalia makes it possible for us to overcome our design and test challenges, with the advantage of having a fresh and new perspectives".
The thesis abroad was made possible by the International Relations Commission of the Genoese university and by the pro-rector Fulvio Mastrogiovanni. "The success of this initiative demonstrates how the preparation provided by our master's degrees, in this case Mechatronics from La Spezia, are undoubtedly also competitive at an international level", said Giovanni Berselli, professor who followed Rafaat and delegate for international relations of the Department of Mechanical Engineering. (HANDLE).
Source: Ansa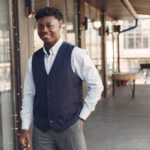 I am a journalist with over 6 years of experience working in the news industry. I currently work as an author for Global Happenings, and my coverage focuses on Technology news. I have written for various publications, including Reuters, The New York Times and The Guardian.